Shkodër: Goodbye Albania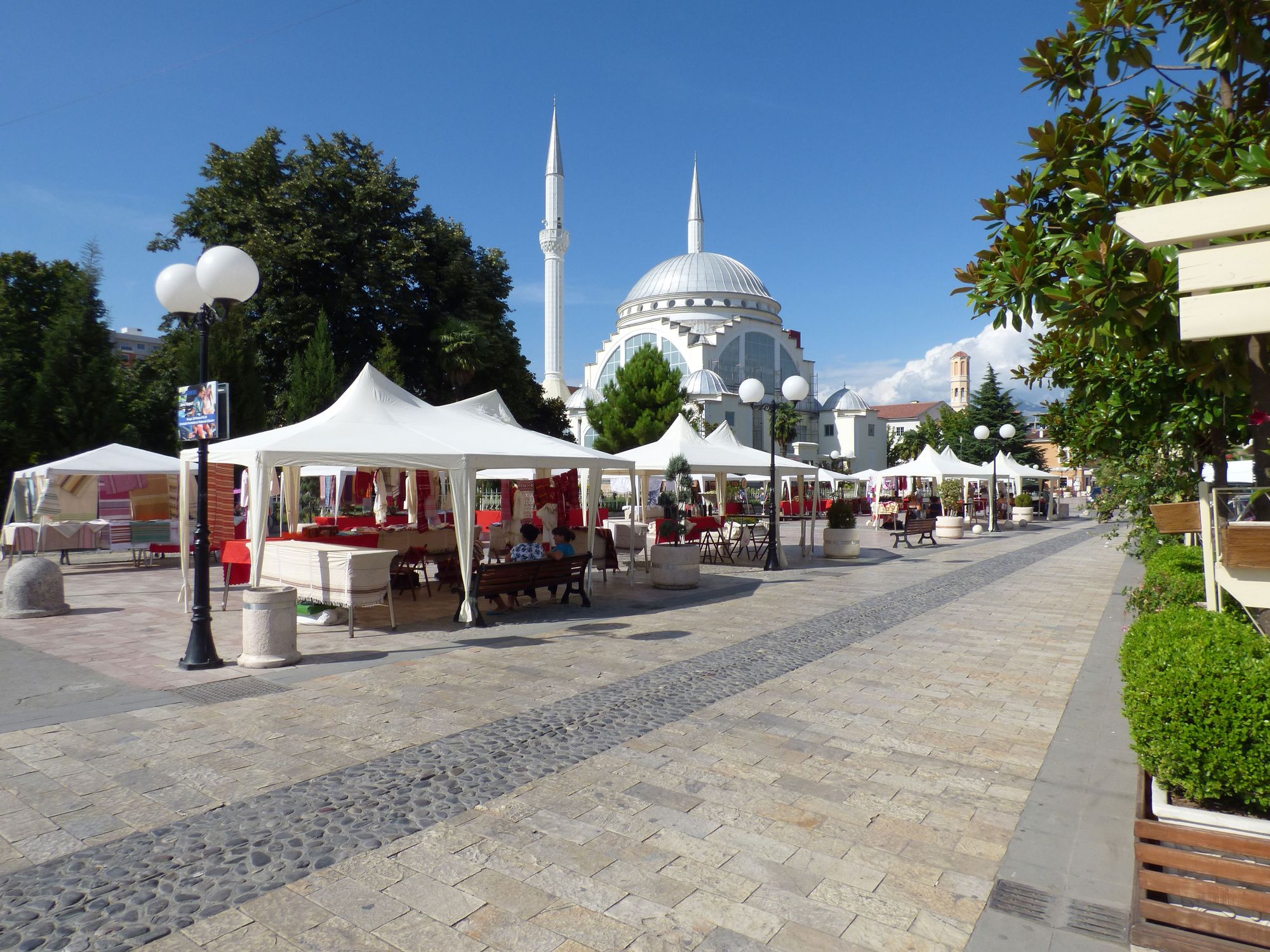 Alighting the bus in the centre of Shkodër, our feet had barely touched the pavement before a swarm of taxi drivers was upon us, all shouting the same thing.
"Montenegro taxi? Montenegro taxi?"
Shkodër is a transiting point for many travellers heading north from [Tirana](GHOST_URL/welcome-to-tirana/" target="_blank) towards the Montenegrin coast, and our backpacks had clearly marked us out as another pair of itinerant foreigners just passing through. When we explained that we were actually staying in Shkodër for two nights, surprise and a hint of confusion crossed the faces of our would-be chauffeurs. This apparent lack of civic pride on their part didn't appear to bode particularly well for our stay here, and indeed my first impressions of their town were a little underwhelming.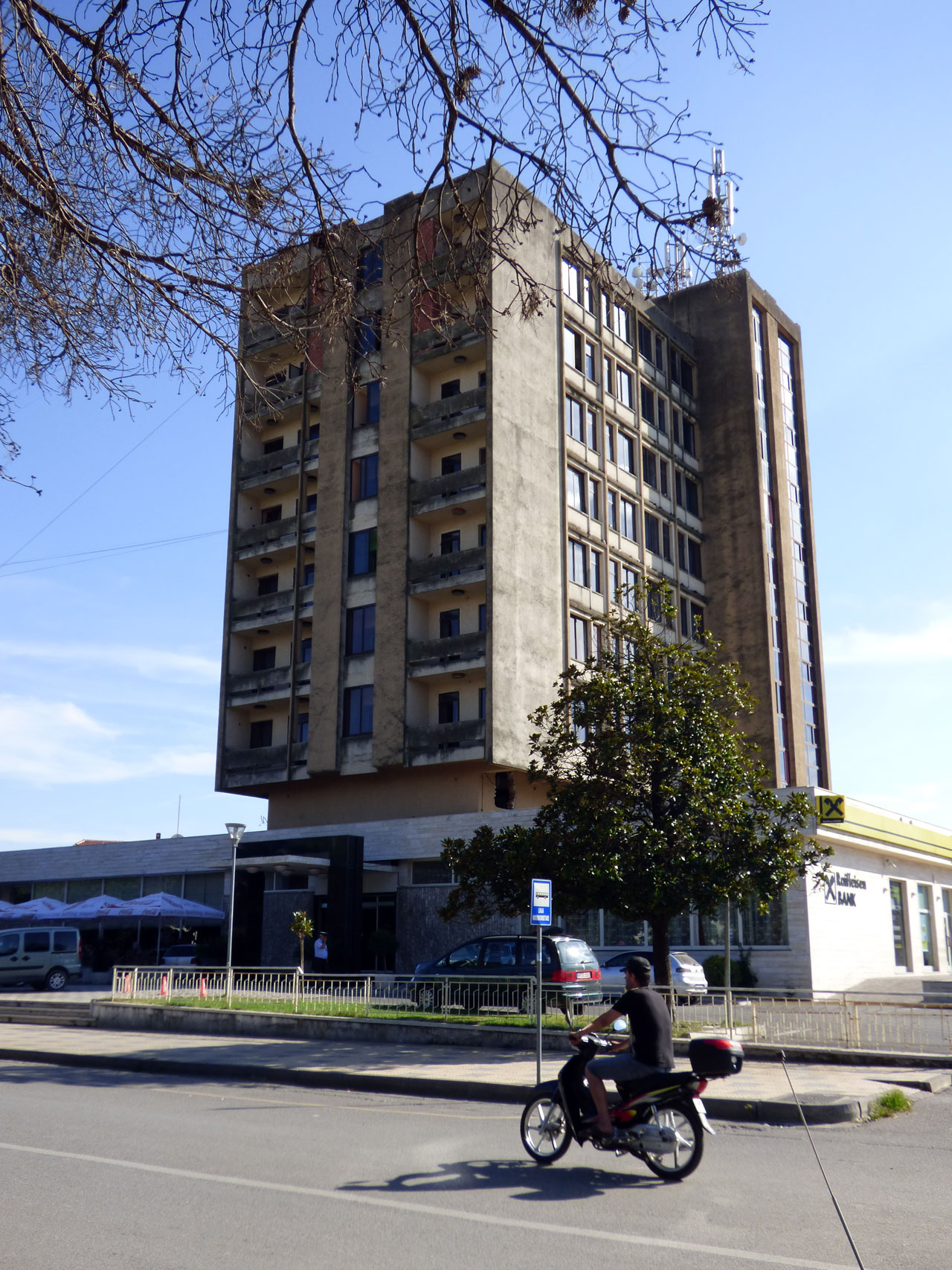 Shkodër is an ancient settlement, said to be one of the oldest cities in all of Europe, but much of the city centre is scarred by the same grim communist-era architecture you find all over Albania. Although the more laid back atmosphere was a nice change of pace after the frantic traffic of Tirana, with more residents here favouring the bicycle over the ubiquitous Mercedes, it didn't seem like there was an awful lot to see or do. The most pleasant streets were around Sheshi Nënë Tereza (Mother Theresa Square); the pedestrianised Rruga Kol Idromeno, flanked by pastel-coloured old Ottoman merchants' quarters, was a nice place to stop for an ice cream, and we found a little restaurant nearby that did great Italian food.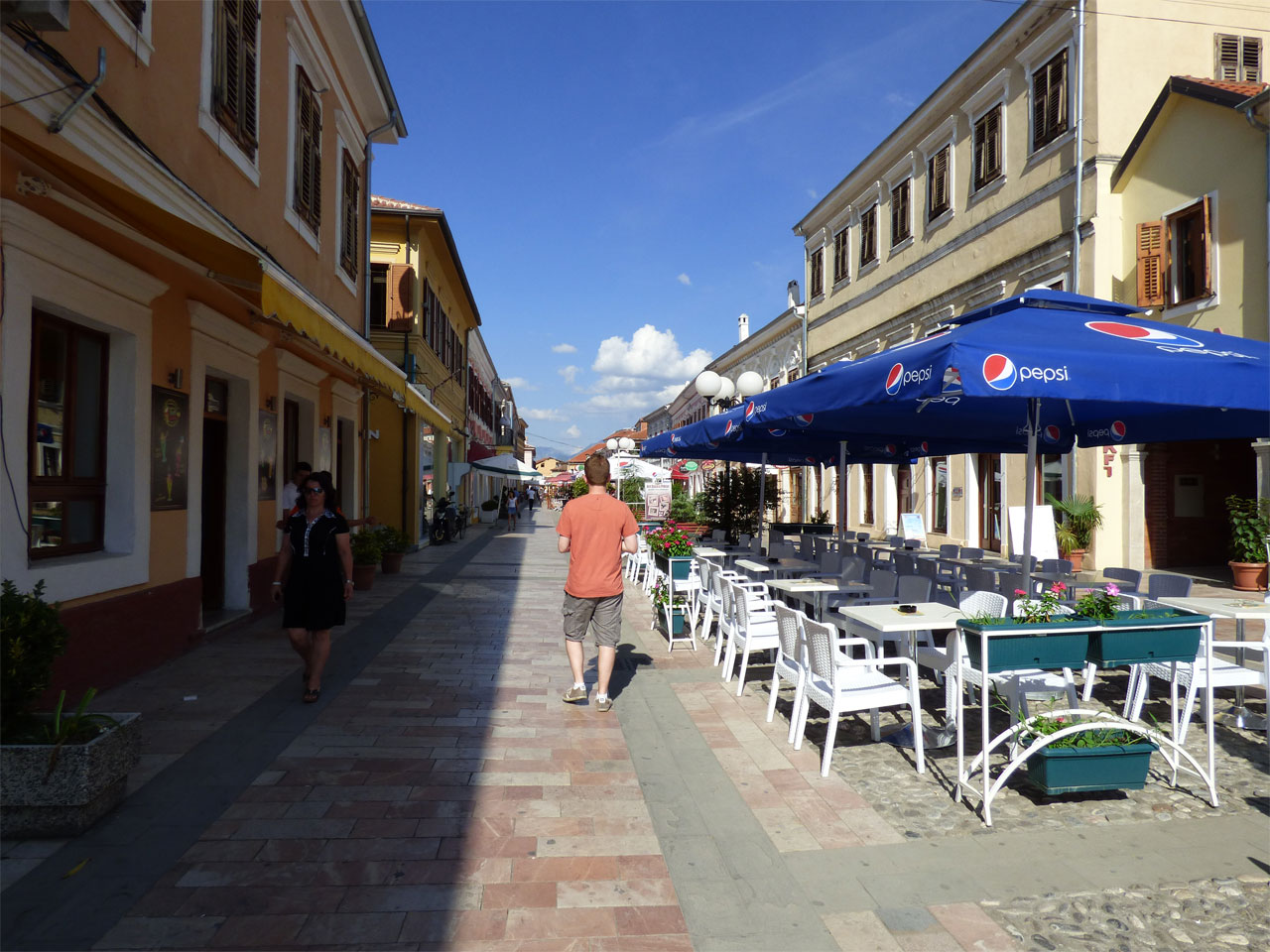 Shkodër is one of those towns where you quickly find yourself walking past the same row of shops or statue for the third or fourth time that day, and the city centre is pretty small; the one real highlight was the Rozafa Fortress, a sprawling castle perched on a craggy hill overlooking Lake Shkodër and the mountains of Montenegro. We made our way there in a taxi, with a driver who spoke neither English nor the usual Albanian second language of Italian, though he did make a half-hearted attempt to communicate with us in German. He soon became agitated when we found ourselves stuck behind a wedding party, who had blocked the road leading up to the fortress with their convoy of cars and horse-drawn carriages while they posed for a lengthy photo shoot. After a good ten minutes spent waiting for the road to clear, with our driver fruitlessly beeping his horn and shouting angrily at the happy couple, we were able to complete our journey up the hill to the castle gates.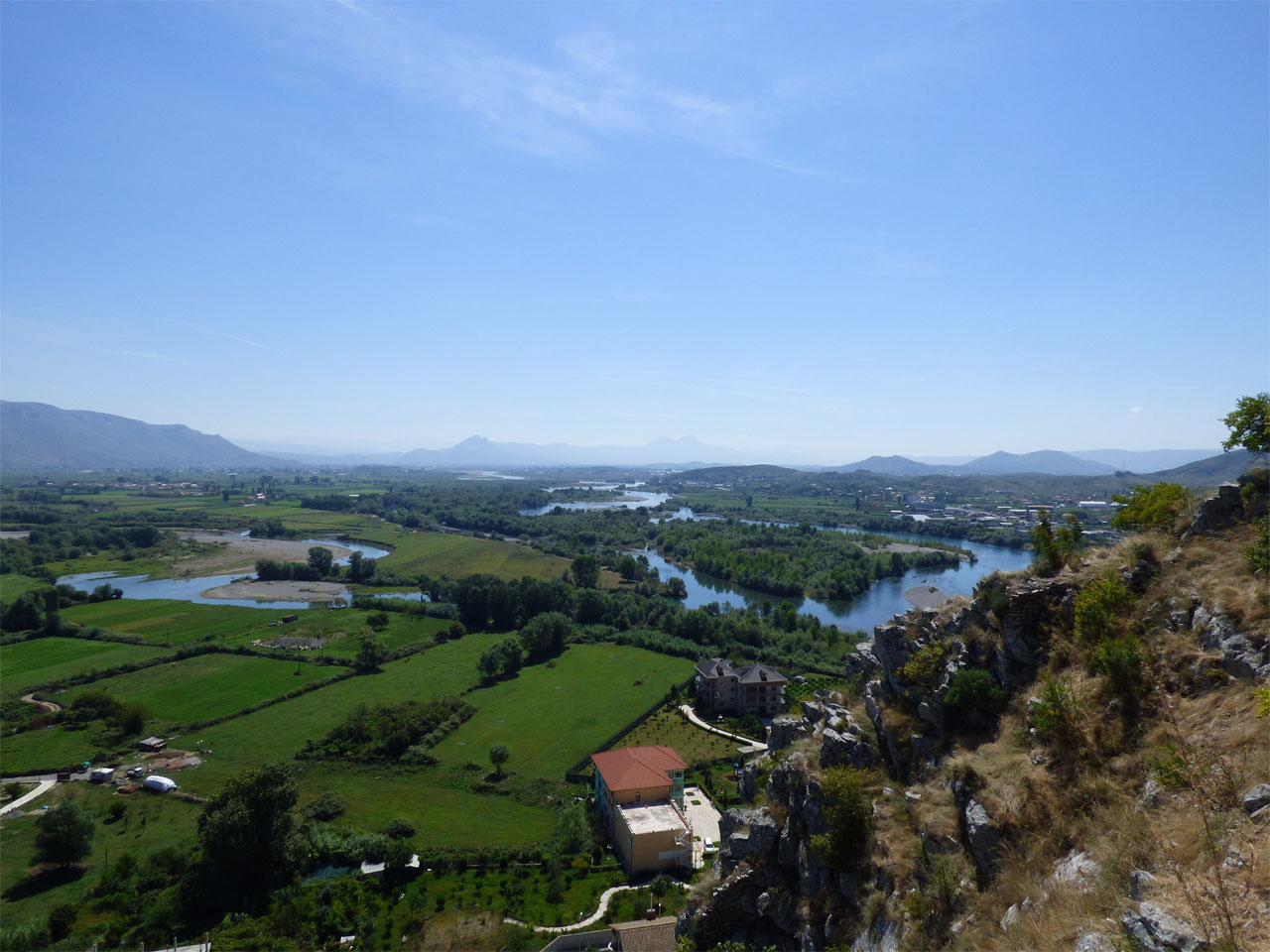 The fortress has a history that stretches back hundreds of years to the time of the Illyrians, and it was later rebuilt by the Venetians, then the Turks. The back story is bizarre, even by Albanian standards: Rozafa was the name of some poor young woman who was bricked into the walls to appease the gods, with a couple of holes left in the masonry so that she could continue to breastfeed her baby. These days Albanian women apparently sometimes come here to smear their breasts with the milky water that oozes from the wall, though we didn't happen upon anyone partaking in this particular custom during our visit.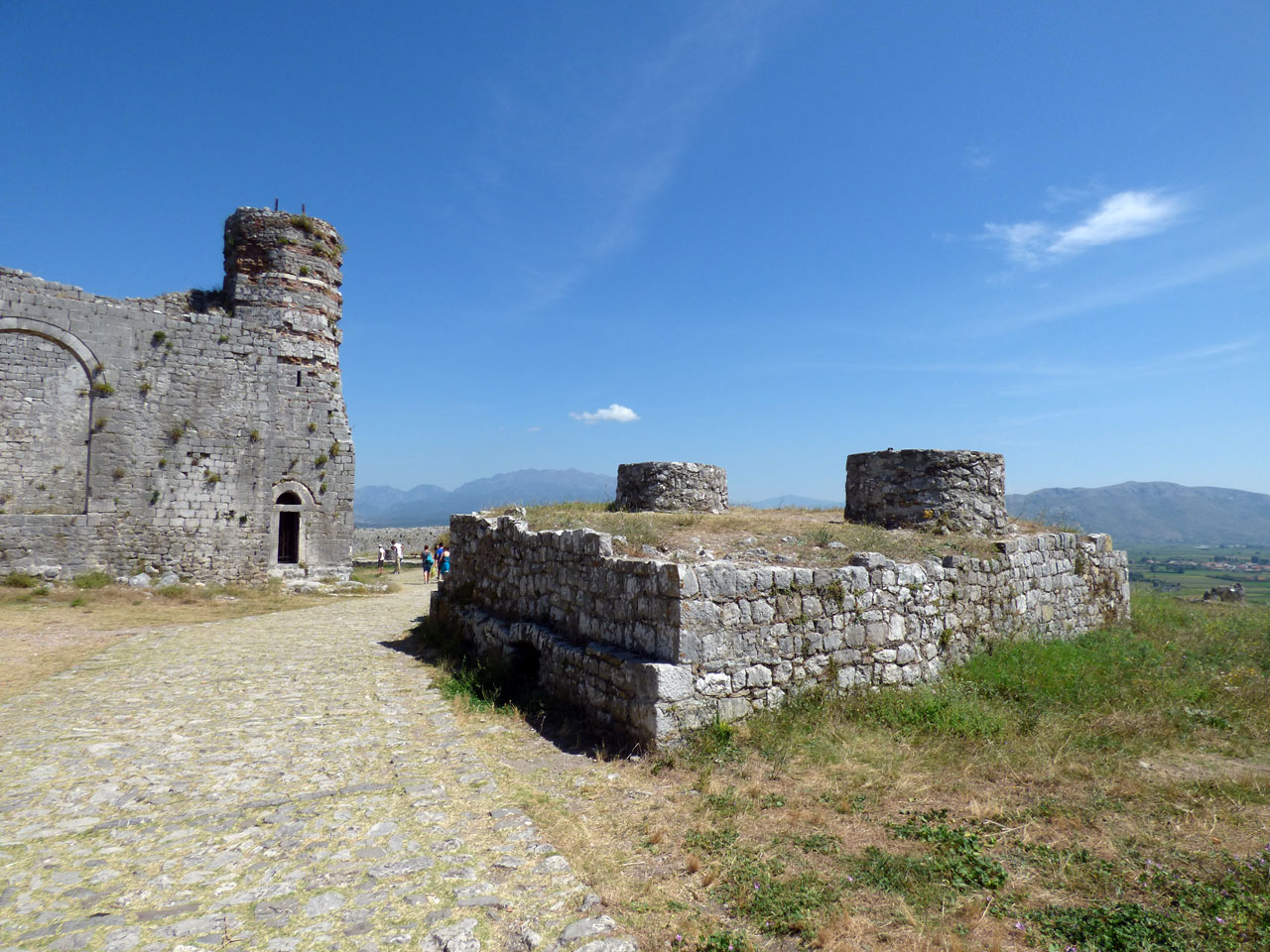 Of all the castles we visited in the Balkans, the Rozafa was probably the most impressive, and it was well worth the visit just for the views from the top. We also had a look around the informative museum situated within the castle walls, where an exasperated-looking curator was running about trying to stop a large tour group (all adults) from picking up the centuries-old exhibits and posing with them for photos. We then made our way back down the hill on foot, and took a detour along a quiet country road to visit the 18th century Lead Mosque, a squat little building surrounded by fields. The guardian of the mosque spoke no English, nor Italian, nor even German this time, but the few words of Albanian I'd managed to learn, along with various hand gestures and about 50 pence worth of Albanian lek stuffed into the collection box, seemed to earn us a new friend. As we left I turned to him, trying to remember the Albanian word for 'goodbye'.
"Er… mirupafshim", I ventured, unsure if my pronunciation was correct. It was our last day in Albania before moving on to [Montenegro](GHOST_URL/tag/montenegro/" target="_blank), but this was the first time I'd tried to use this word. His face cracked into a smile, and he clasped my right hand in a firm handshake, gripping my shoulder with his other hand.
"Mirupafshim!"