Villa de Leyva & Bogotá: A fragile peace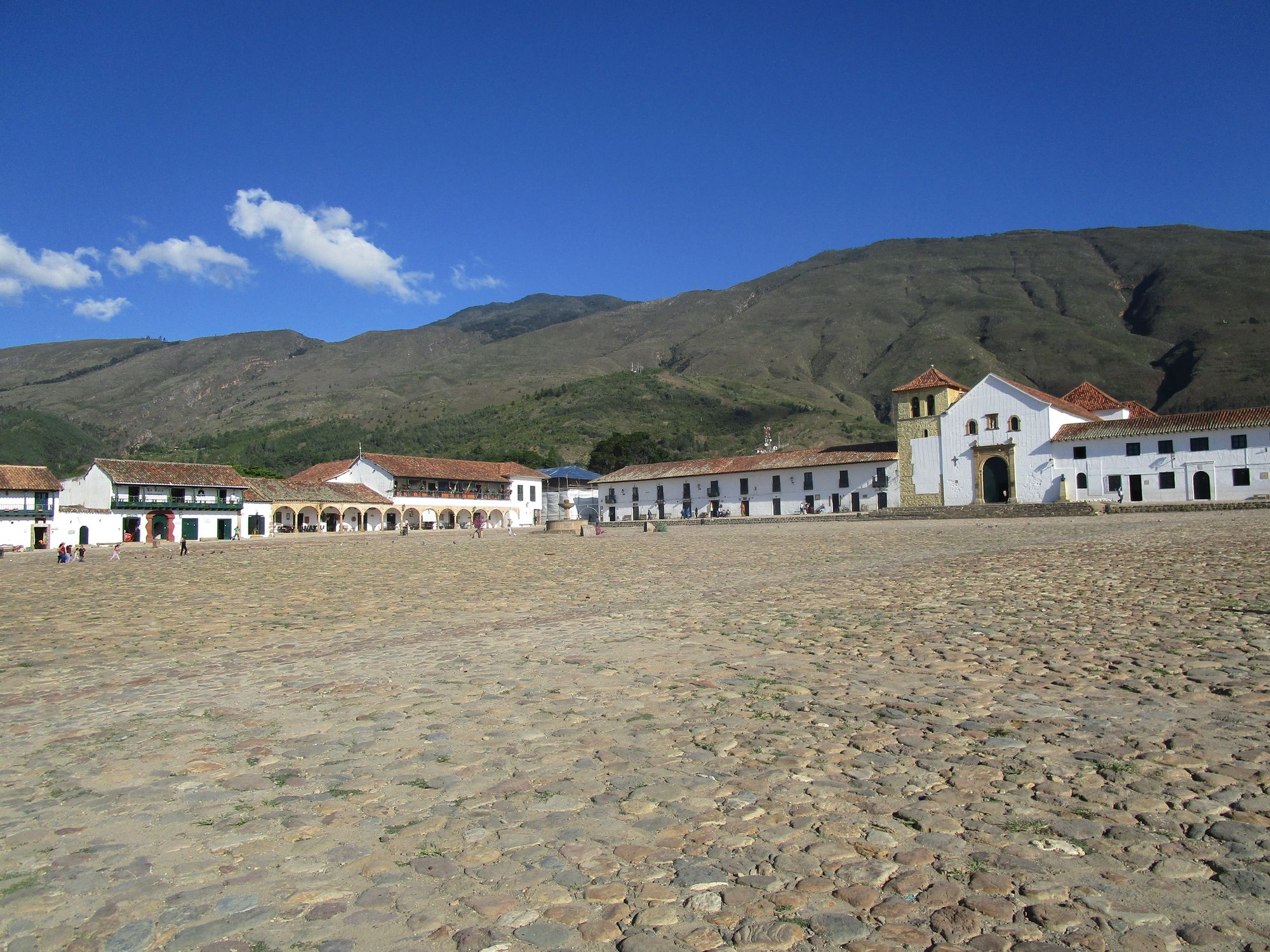 Colombia was the eighth and final country on our whistlestop tour of South America, and a place that I'd wanted to visit for a very long time.
Tell most people you're going to Colombia, however, and their first question is normally: "Is it safe?" Decades of guerrilla warfare, political instability and violence fuelled by the drug trade have left the country with something of an image problem.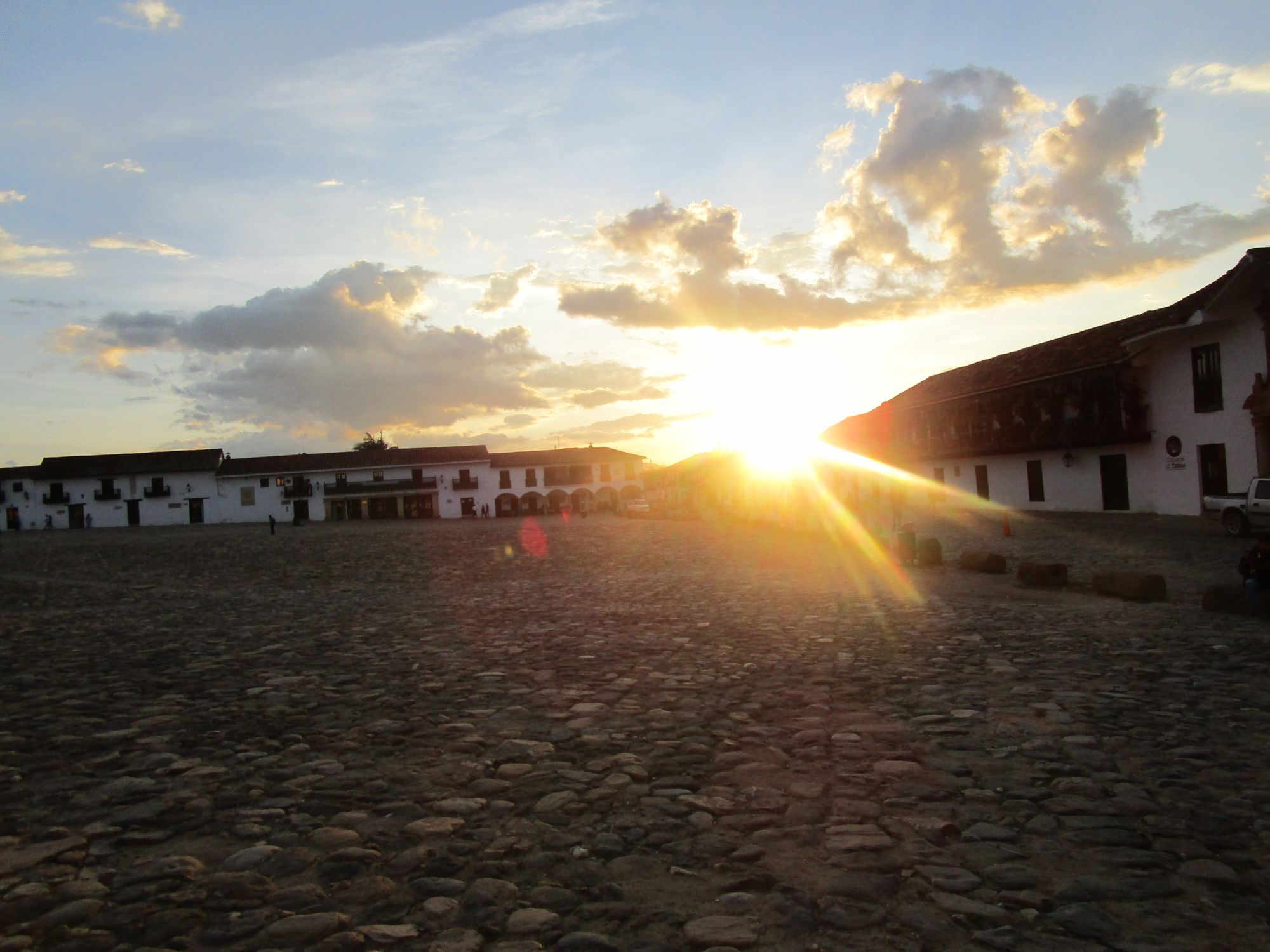 Our journey through Colombia began in Villa de Leyva, a three-hour drive from the capital, Bogotá. This quiet little colonial town, set amongst green hills speckled with cows, seemed a far cry from the Colombia portrayed in Narcos.
The town is centred around the Plaza Mayor, a huge cobbled square surrounded by picturesque whitewashed buildings. On our first evening we settled in at a bar for a couple of beers and a spot of people watching, as the sun dipped below the terracotta-tiled rooftops. Christmas lights began to twinkle in the dusk, a reminder that December was here and our time in South America was nearly up.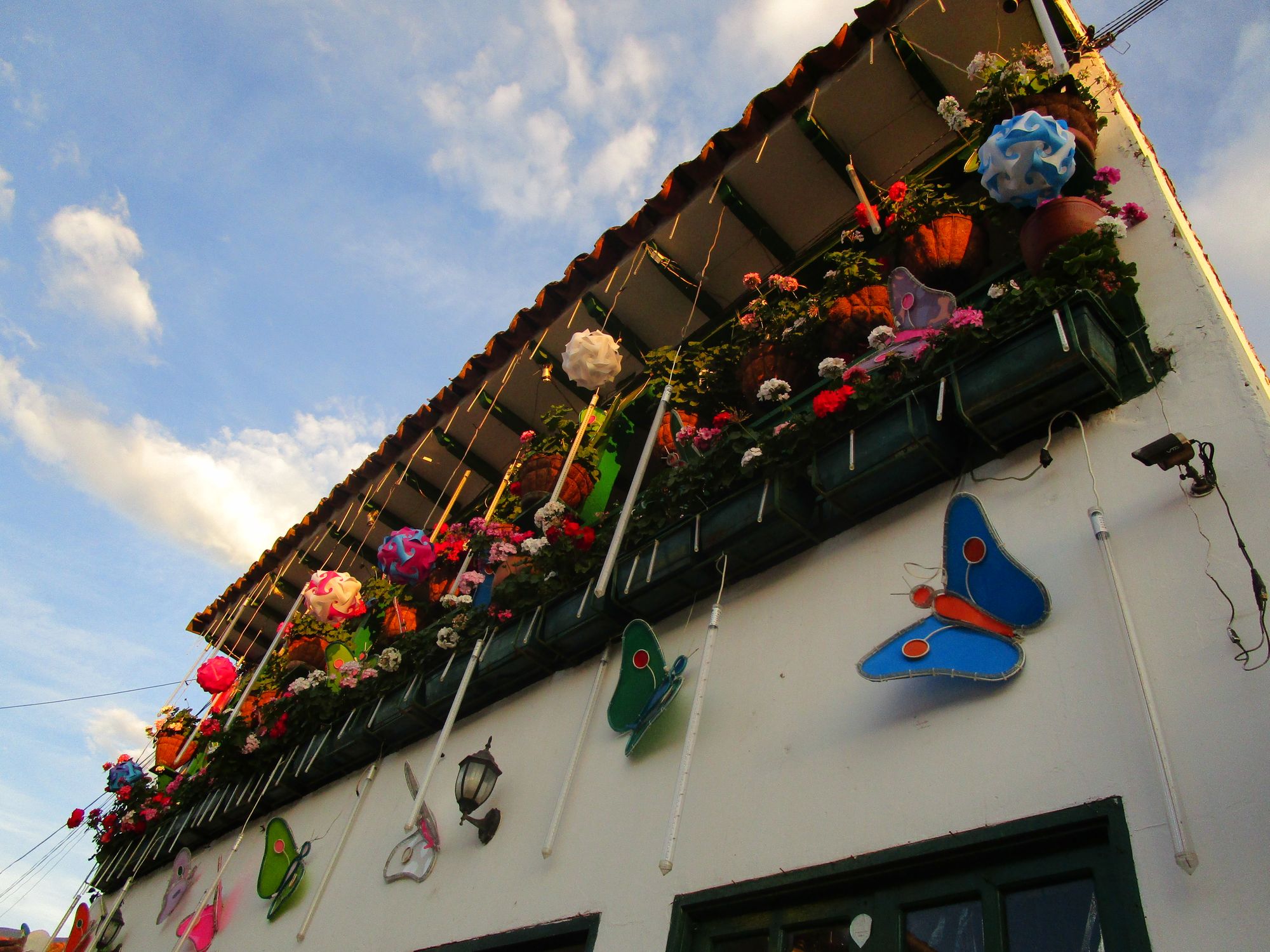 Villa de Leyva is a nice place to amble around, but there isn't a huge amount to do in the town itself. On our second day we went for a walk along the road leading west into the countryside, down a sunny lane where bougainvillea tumbled over the walls of large Spanish-style villas.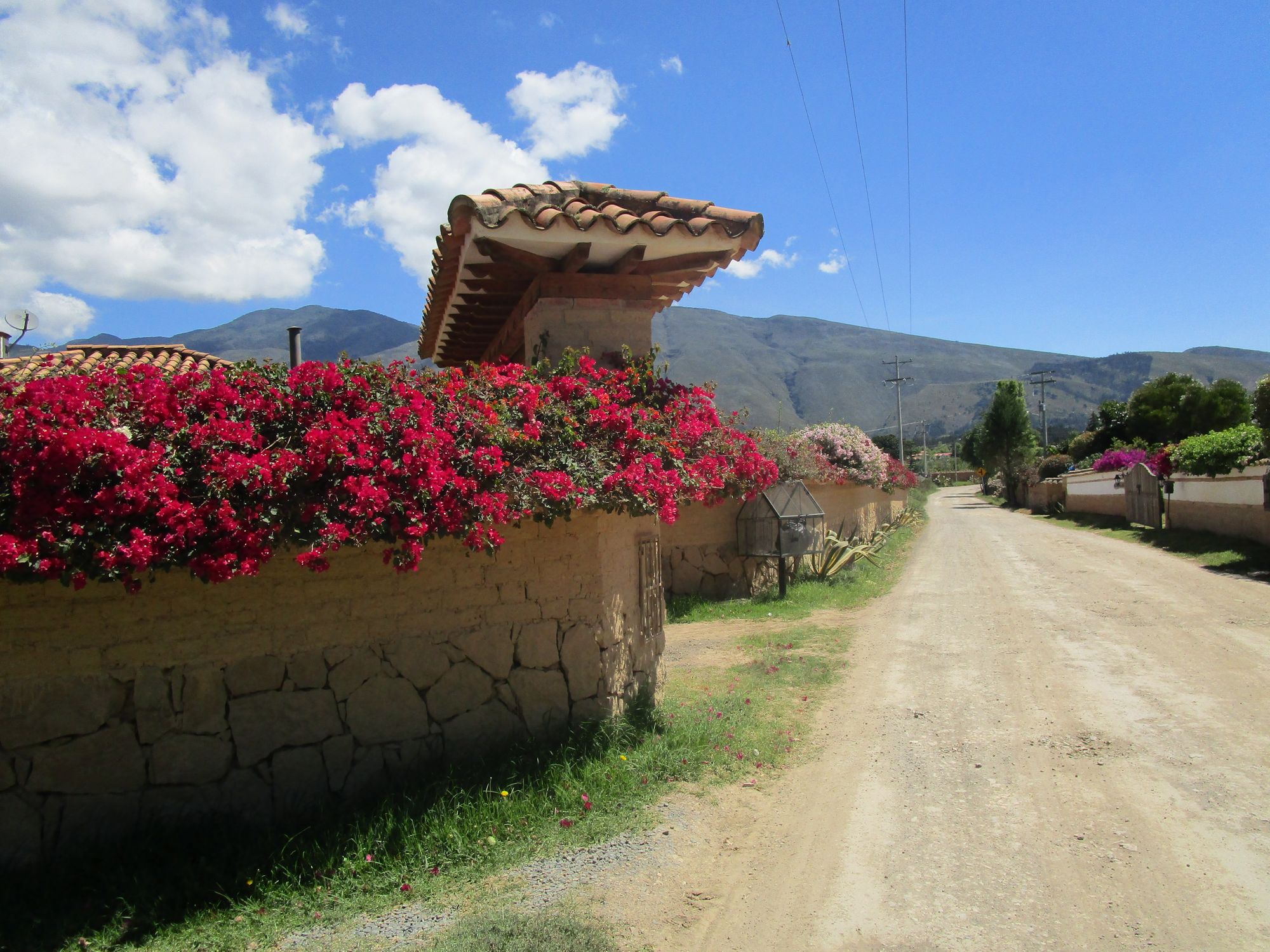 We soon spotted one of Villa de Leyva's most unusual tourist sights, an undulating orange construction known as the Casa Terracota. This house is the brainchild of Colombian architect Octavio Mendoza, moulded from clay then left to bake and harden in the sun. Mendoza claims that the house is the 'world's largest piece of pottery', and the interior is kitted out with everything you would need to live here, including bedrooms, bathrooms and a fully functioning kitchen.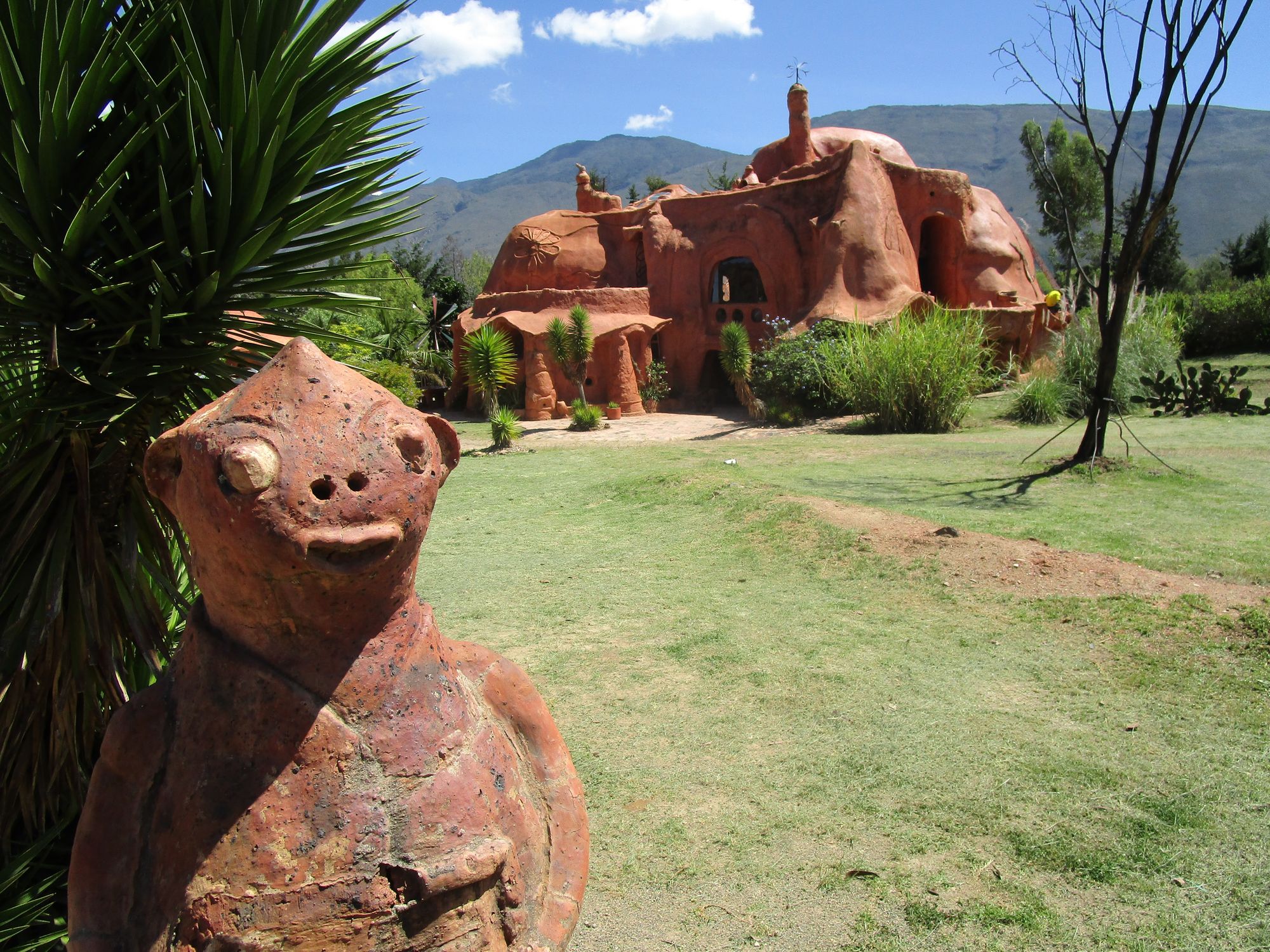 From the Casa Terracota we continued along the gravel track, passing fields where tomatoes ripened in enormous greenhouses. It was amongst these fields, 41 years ago, that a local campesino stumbled upon a quite extraordinary sight: the fossilised skeleton of a Kronosaurus, a monstrous prehistoric sea creature that lived over 100 million years ago. Villa de Leyva is a long way from the coast, but it's pretty common to find fossilised marine creatures here; sea levels were higher in prehistoric times, and much of what is now Colombia was underwater.
When the Kronosaurus was discovered, the authorities wanted to move the fossil to a museum in Bogotá, but the locals were adamant that it should stay in Villa de Leyva. They built their own museum to preserve and protect it, and the fossil is still in the ground exactly where it was found. The skeleton, virtually complete, measures some seven metres from head to tail. And apparently this was only a youngster!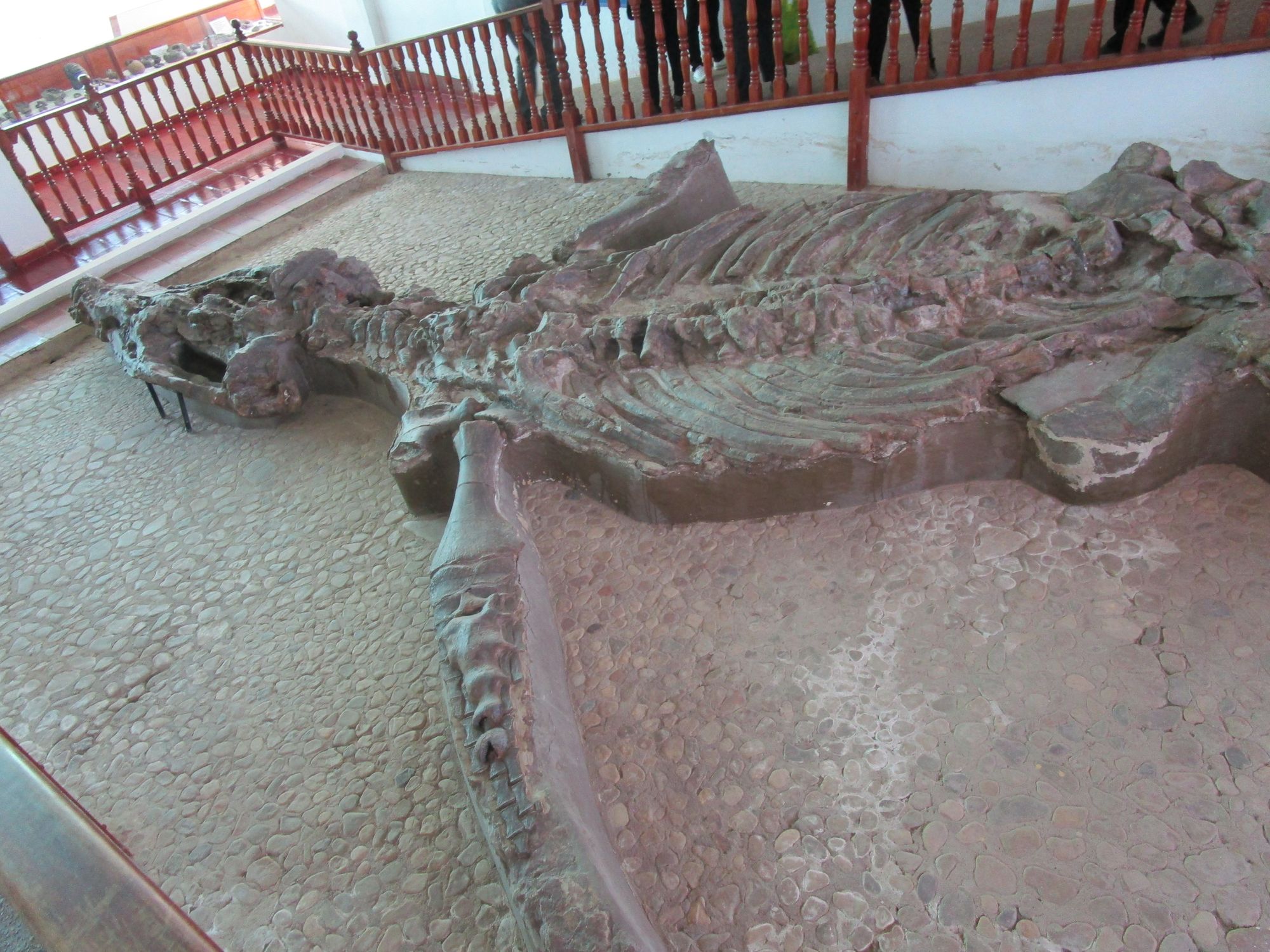 Back in the town, we had a late lunch of cake and freshly squeezed fruit juice, then spent some more time wandering the cobbled streets. Villa de Leyva was such a sleepy place that the sight of a group of soldiers armed with assault rifles came as quite a shock. We scanned our surroundings nervously. Was there a threat from dissident guerrillas? Or maybe the police had received intelligence about a high-level narco hiding out in the town?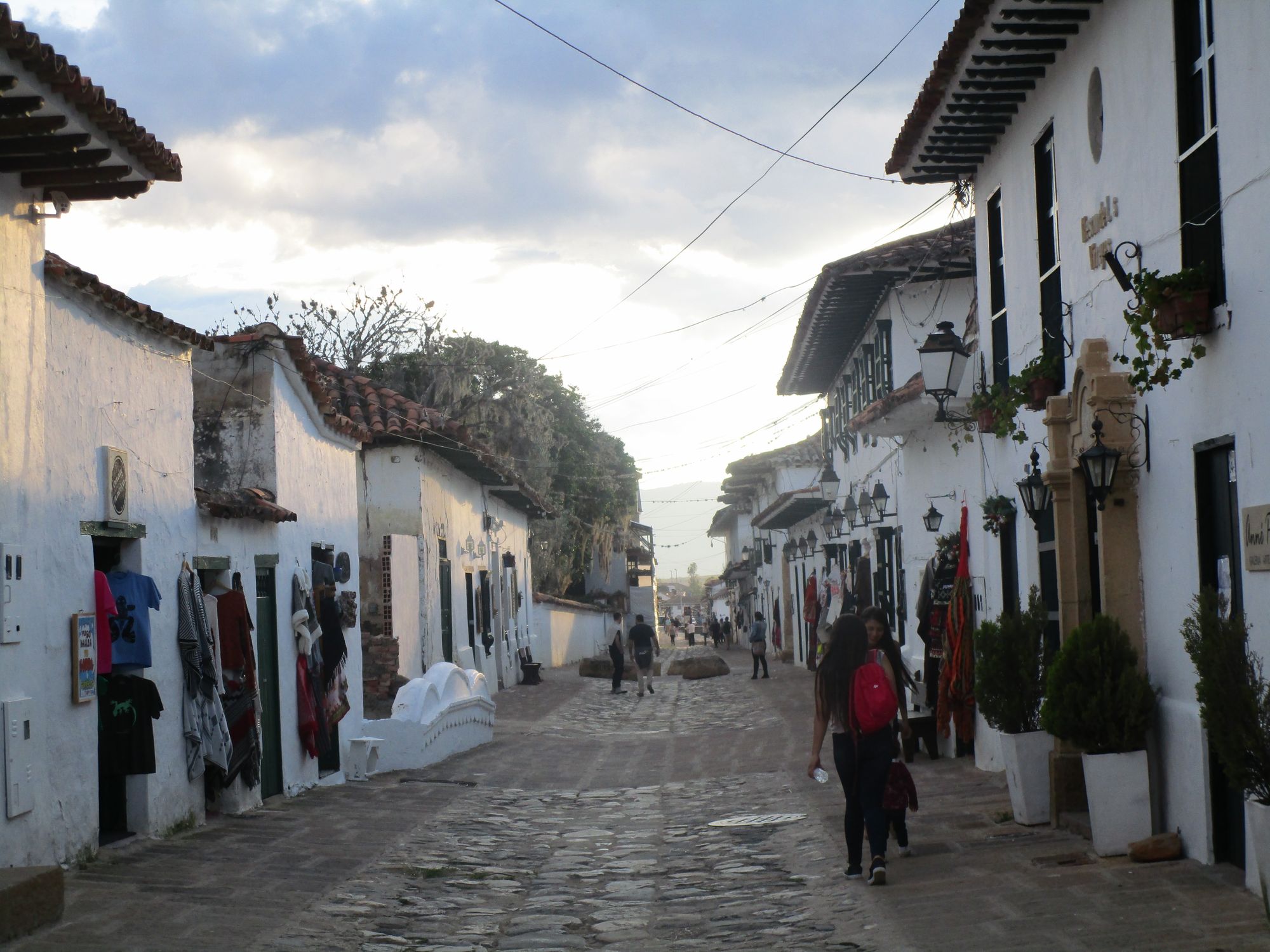 In fact it was just a routine patrol, a sight that became very familiar as we travelled around Colombia. Although the country is the safest and most peaceful it's been for years, the security forces still maintain a very visible presence. This is hardly surprising after decades of violence and internal conflict; politicians, journalists and police officers were regularly kidnapped or assassinated during the darkest days of the war with the drug cartels, and innocent bystanders were frequently caught in the crossfire.
The security presence in Villa de Leyva was light compared to what we saw a couple of days later in Bogotá. We'd made our way to the city centre to join a free walking tour of La Candelaria, the historic heart of the Colombian capital. The meeting point was a square next to the famous Gold Museum, but when we arrived the streets had been cordoned off by police. When we eventually located our guide, Jeff, he told us that the the president of Colombia, Iván Duque, was holding a meeting in one of the buildings on the square. Right on cue, the blacked out SUVs of the president's motorcade zoomed past, including one with a machine gun-toting soldier sticking out of the sunroof.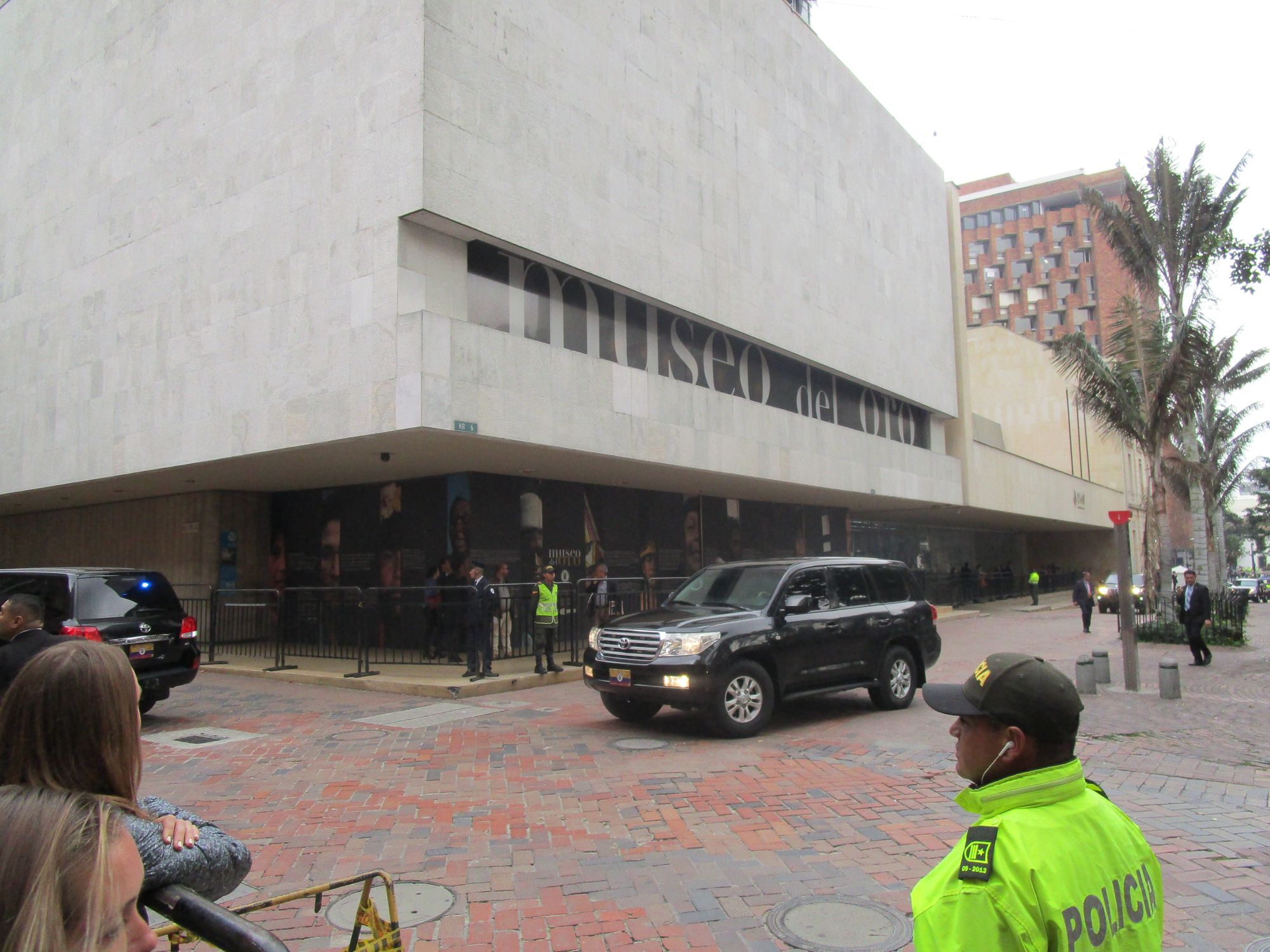 Colombian presidents have reason to be paranoid. Just a short walk from the Gold Museum is the spot where one of Bogotá's most notorious political assassinations took place, with devastating consequences. On 9th April 1948 the leader of the Liberal party, Jorge Eliécer Gaitán, was gunned down in the street by an unidentified assassin. Gaitán was hugely popular with working class Colombians, and had been the favourite to win the 1948 presidential election. His murder sparked an orgy of rioting known as the Bogotazo, which left some 5,000 people dead and much of downtown Bogotá in ruins. The violence then spread to the countryside, spawning a brutal ten-year civil war between Conservatives and Liberals that became known simply as La Violencia.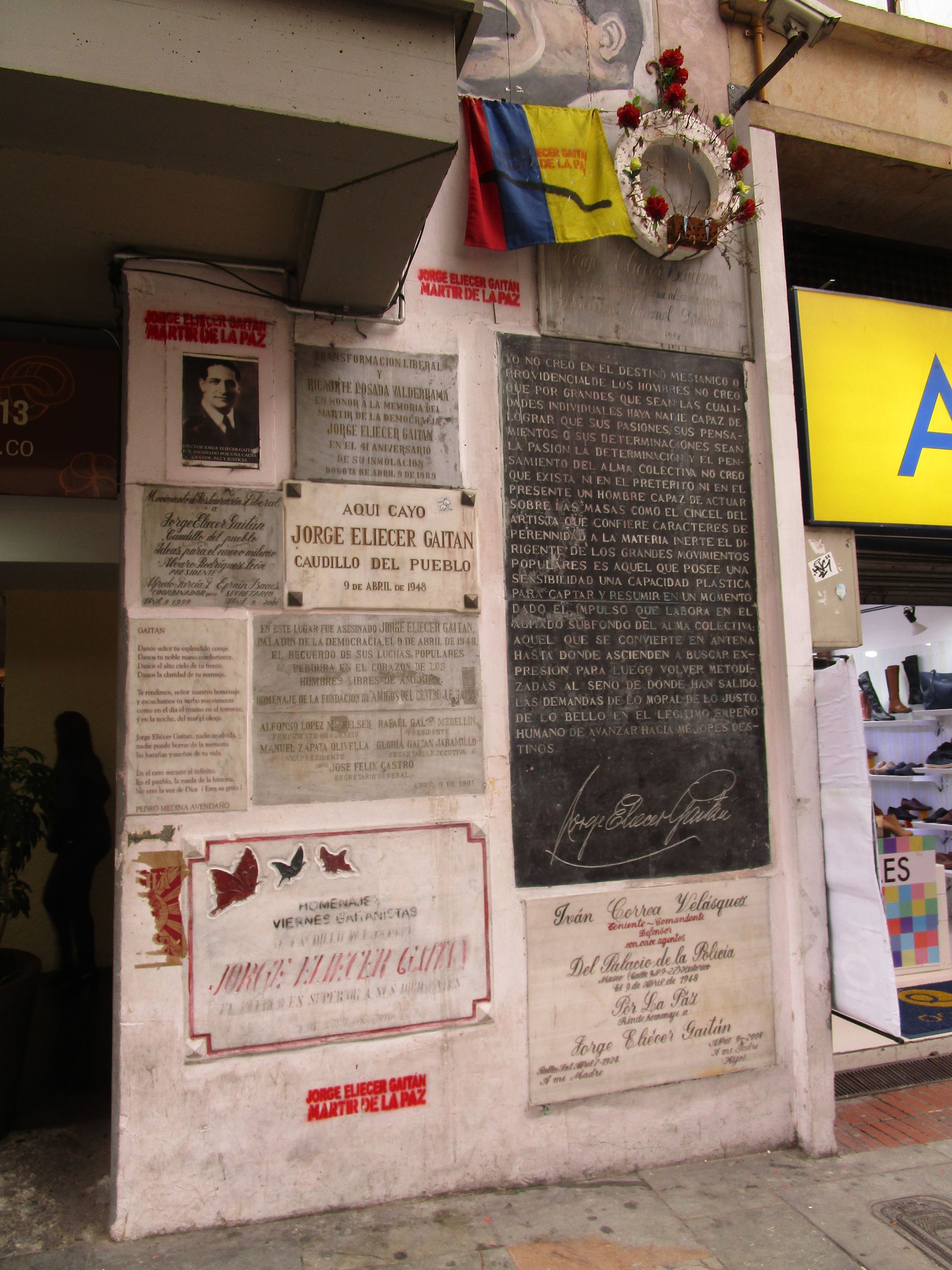 Political violence and a weak central government have plagued Colombia throughout its history, but Jeff was keen to show us a more positive side of Bogotá. Colombia is enjoying a period of unprecedented peace following the signing of a ceasefire between the government and the left wing FARC guerrillas in 2016, and tourists are flocking to the country in increasing numbers. Although the centre of Bogotá is still pretty rough around the edges, the colourful streets of La Candelaria are being revitalised with new hostels, restaurants and hipster bars.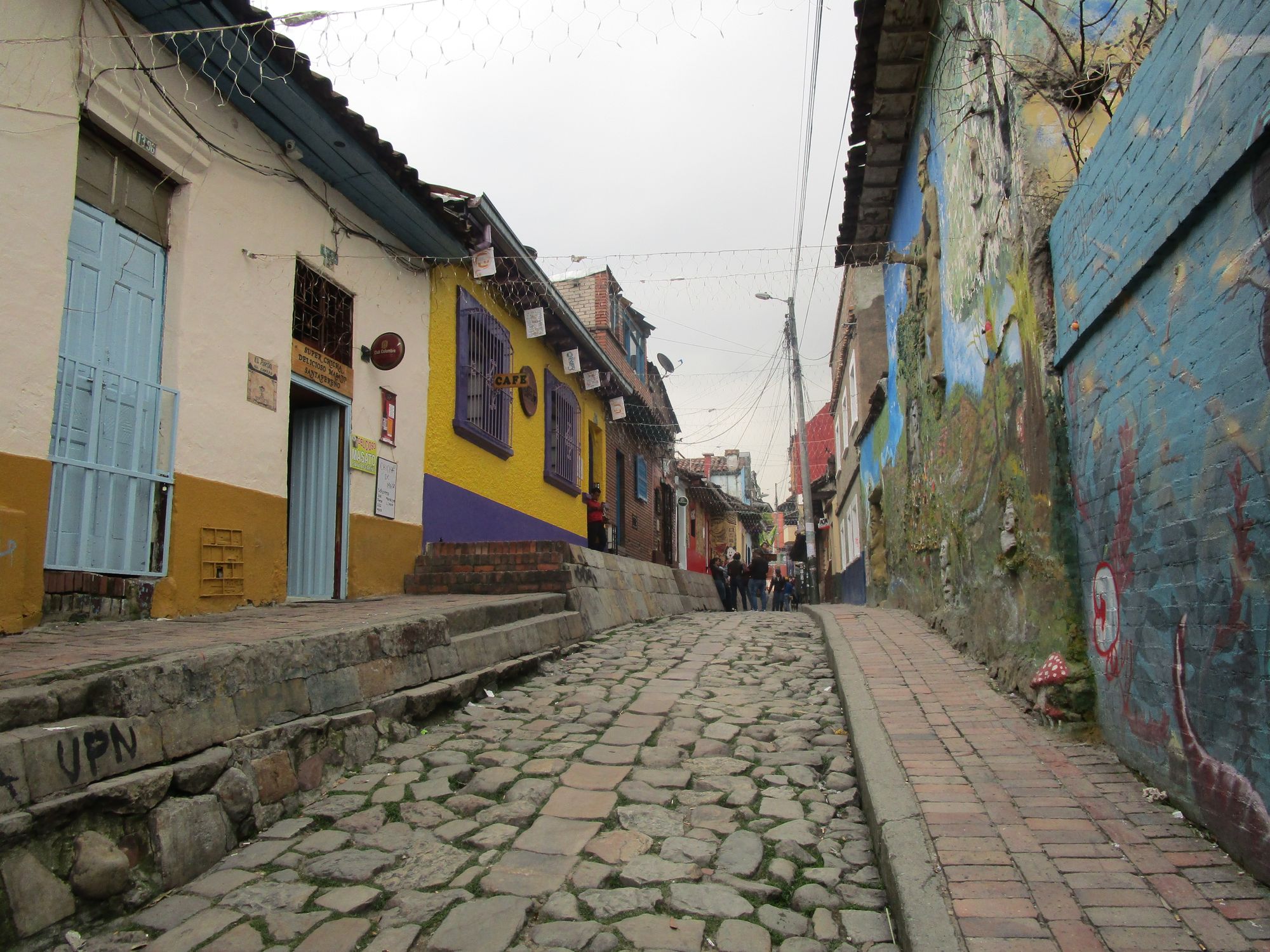 One of Bogotá's highlights is the museum devoted to Fernando Botero, Colombia's most famous living artist. Botero donated a huge number of works to this museum, on the condition that entrance remains free of charge, so that all Colombians are able to enjoy it. Botero's style is unmistakable, portraying his subjects with exaggerated proportions that make them appear podgy and overweight. The paintings on display ranged from a chubby Mona Lisa to portly Colombian presidents, along with sculptures of corpulent cats, bulging birds and swollen nudes.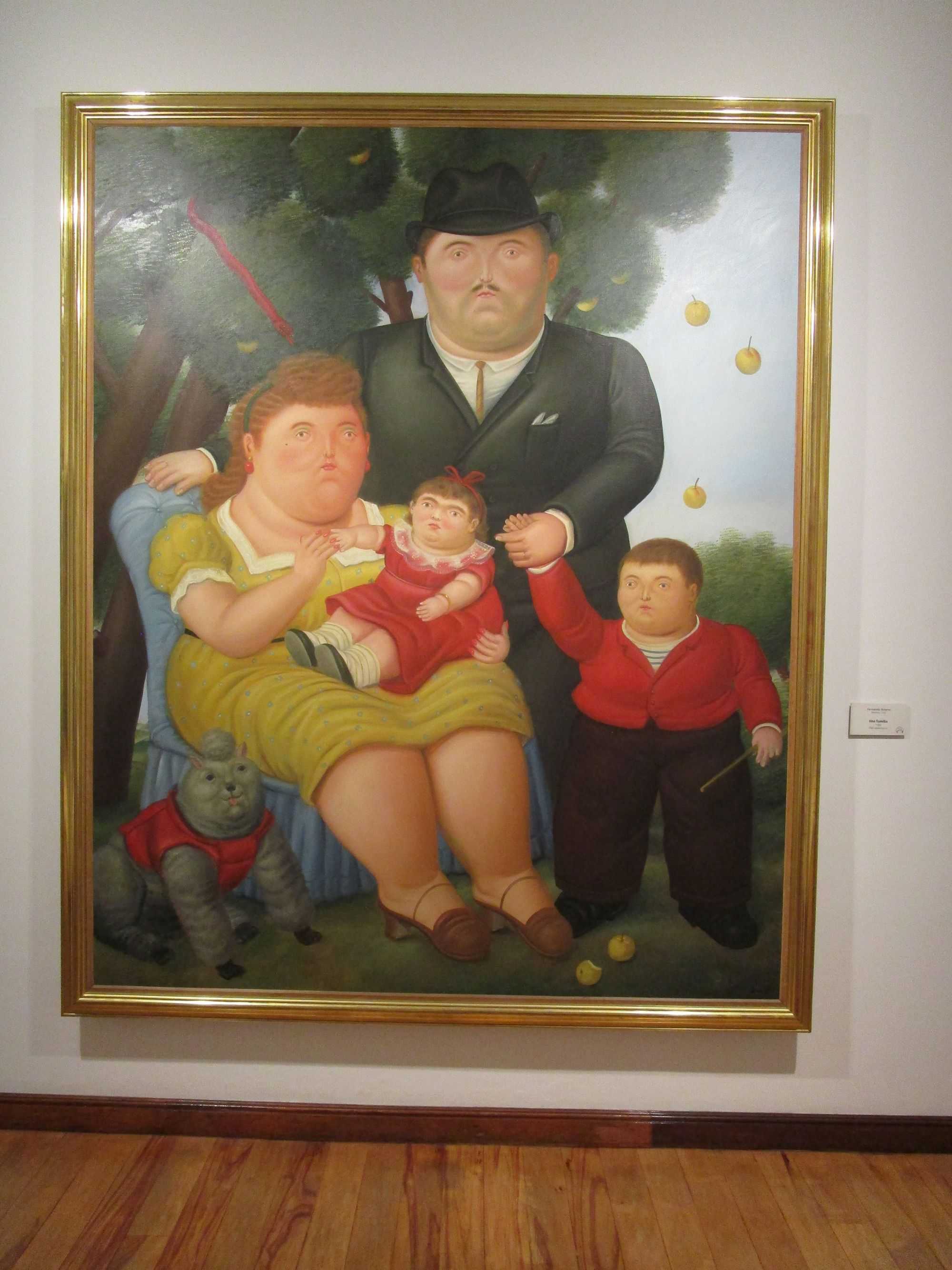 Our tour ended a short walk from the Botero Museum in the city's main square, Plaza Bolívar, where we found another security operation underway. The Congress building and City Hall were being covered in netting to protect them from paintballs, and riot police were gathering outside the cathedral. Jeff told us that the police were expecting a protest later that day against the president, who is already deeply unpopular despite only taking office in August.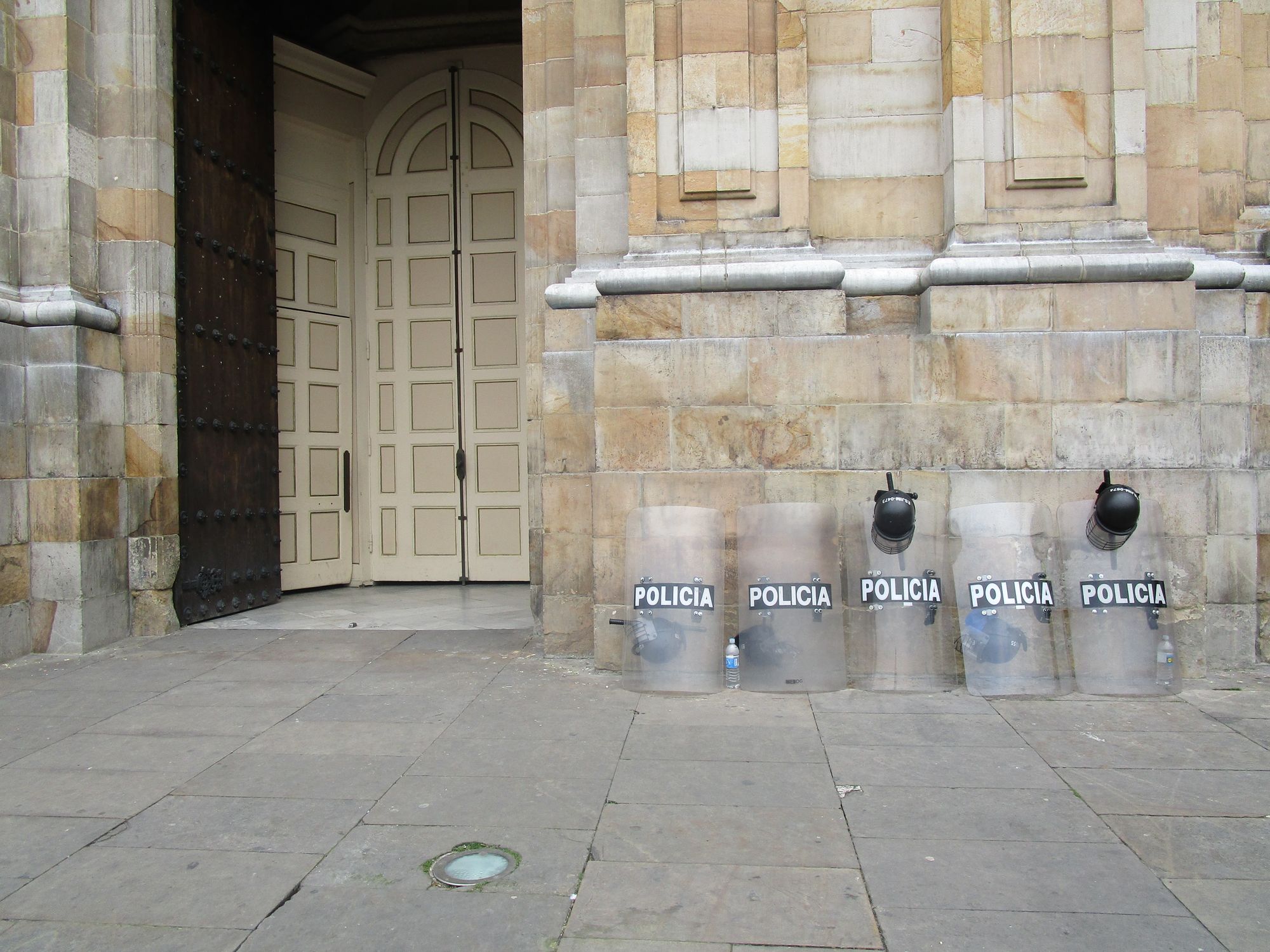 Political disillusionment was a recurring theme throughout our trip around South America, and Jeff had one final warning as he bid us farewell:
"Please, guys, keep an eye on your belongings in this part of town. There are a lot of politicians around here!"