It was an aerial photo of the Bay of Kotor that first really piqued my interest in Montenegro, and I'm sure many other travellers have been lured here in the same way. The bay is simply jaw-dropping, a fjord-like inlet hemmed in by crumpled mountains, with a string of little villages perched along the water's edge. Tucked away right at the back of the bay, clinging to the base of the 'black mountain' that gives Montenegro its name, is the city of Kotor itself. The tiny old town, a camera-friendly maze of narrow streets and shady courtyards, is encircled by walls that reach halfway up the mountain, and we spent three nights here on our recent trip around the Balkans.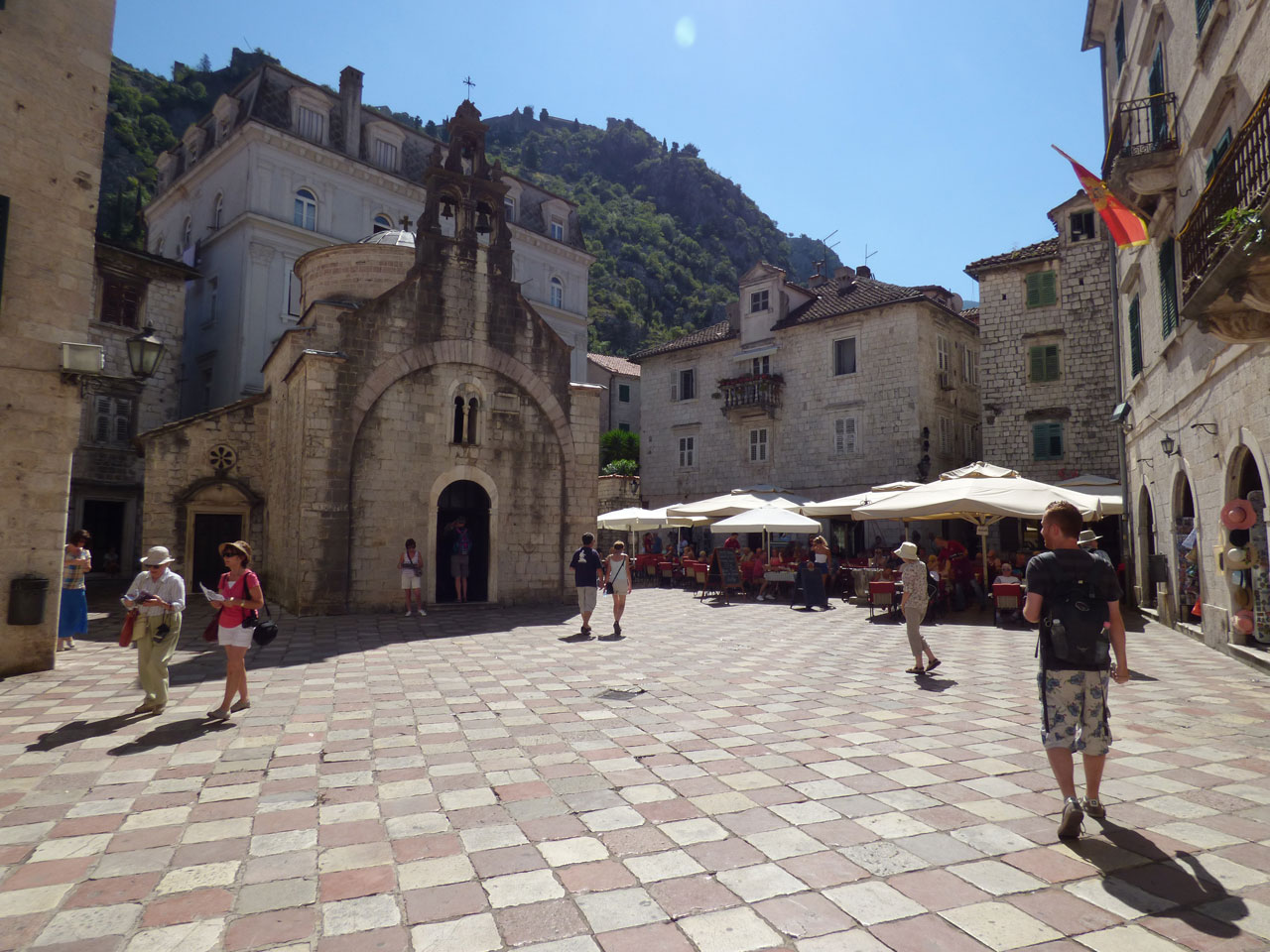 Once we'd found our accommodation we went for a walk along the waterfront to get our bearings, and were a little disheartened to find that the picture postcard view back towards Kotor was obscured by a cruise ship, moored so close to the old town it was virtually scraping the walls. While I appreciate that disembarking this close to the town must have been very convenient for the passengers, it did rather tarnish the view that they had come here to see. Managing tourist numbers is a difficult balance for quaint little coastal towns all over the Mediterranean, as anyone who's been to Venice during the summer will attest, and I suppose cruise ships are still a fairly new phenomenon in Montenegro, but there was nevertheless something a little depressing about the way the ships were all queued up in the bay, waiting for their turn to disgorge their human cargo.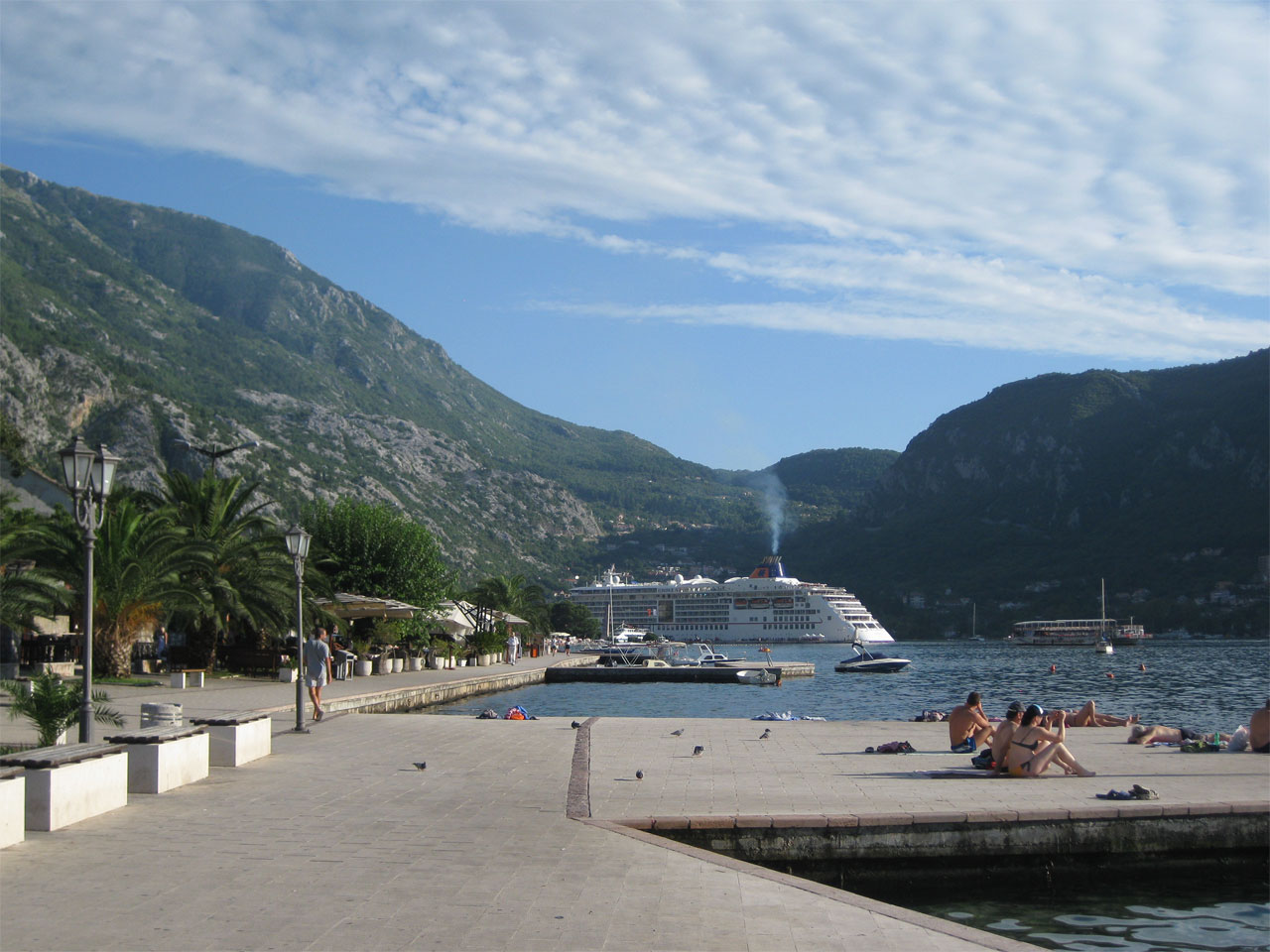 Prior to our trip I had been under the impression that Montenegro was still something of an untouched, up-and-coming destination, but it seemed like this assumption was already several years out of date. The next morning we had a late breakfast at a café just outside the Sea Gate, the main entrance to the old town, and watched as a stream of pasty Brits disembarked from the latest ship to arrive in the harbour. We had barely seen any of our fellow countrymen on our Balkan adventure so far, but here they were arriving in force, clad in the sort of awful middle aged casual clothing that so easily marks out our kind: lumpy ladies in shapeless beige, leathery potbellied men in vests and gold chains, and way, way too much sportswear. Since Kotor was rapidly filling up with day trippers we decided to explore the bay, and we went for a walk along the coastal road as far as a little village called Prčanj. There we found a nice quiet spot on a rocky beach under a fig tree, and enjoyed a swim in what is surely one of the most scenic swimming spots in Europe.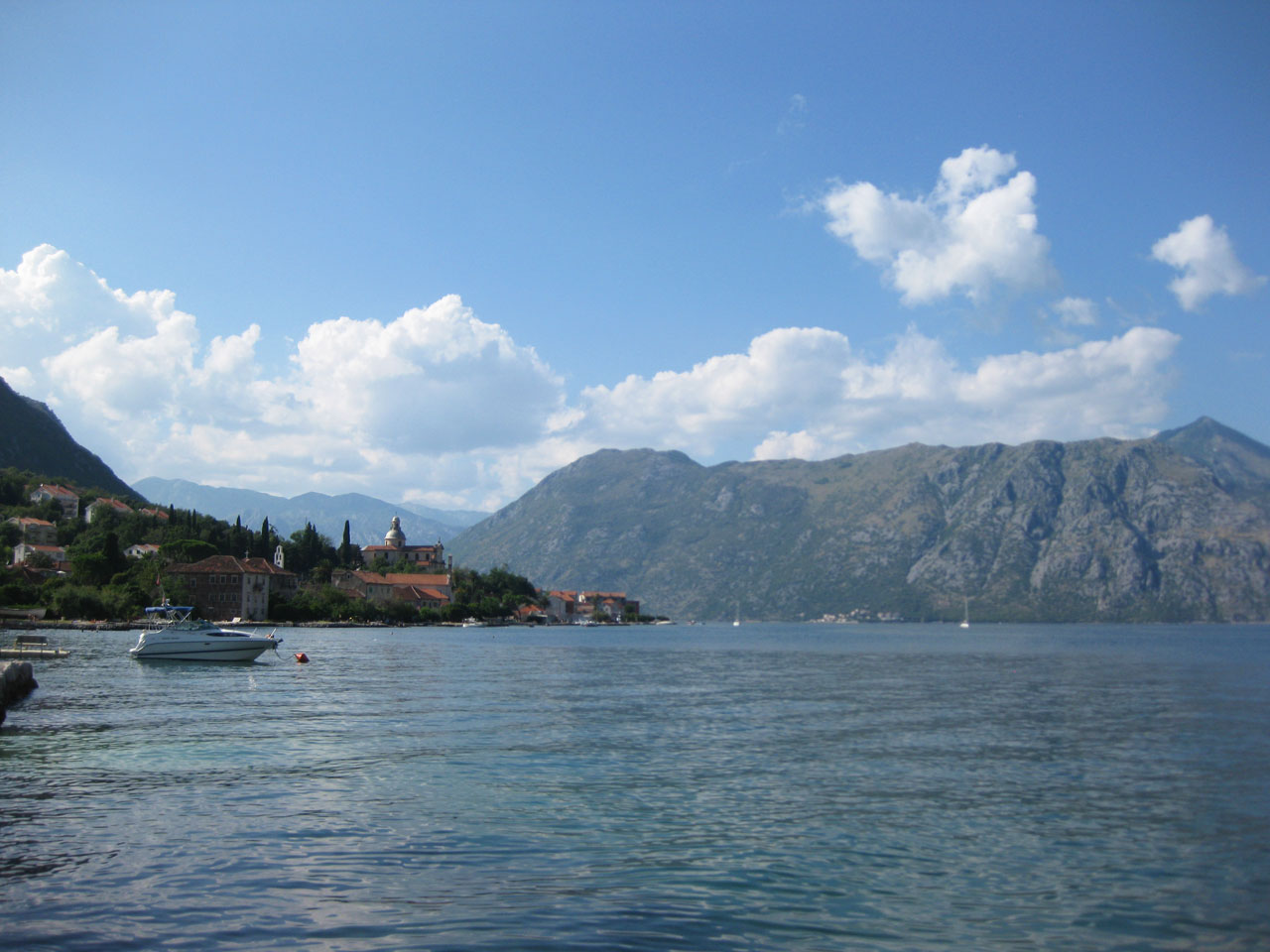 The next day we got up at 7.30 am to climb the city walls, as recommended by the owner of our apartment. It's a steep climb, which I imagine would be pretty intolerable if you did it in the full heat of the day, and to be honest the view from the top isn't that much better than the view from the bottom. The way that the light falls first thing in the morning also means that it's not great for taking pictures of the bay, though perhaps if we'd waited for the sun to rise fully we might have got some better shots. Still, it does give you a certain sense of achievement, and it's a good way to work up an appetite for breakfast.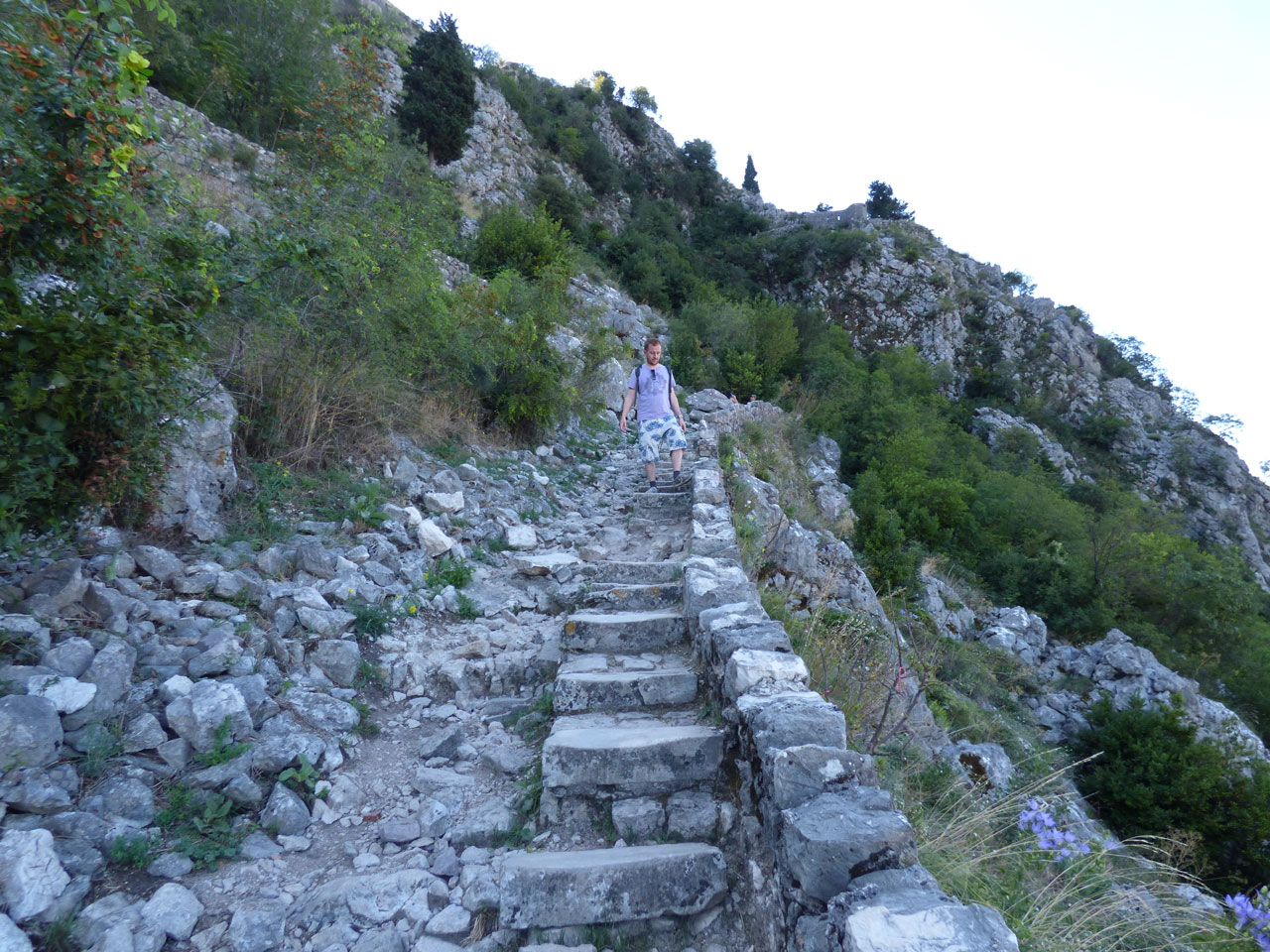 After breakfast we decided to escape from the scrum of the old town again, and headed for a place called Perast. We tried to find a water taxi to ferry us there for a reasonable price, but we were quoted everything from €30 up to an eye-watering €100. This seemed like daylight robbery after the dirt cheap public transport of [Albania](http://not-here.ghost.io/tag/albania/" target="_blank) and [Macedonia](http://not-here.ghost.io/tag/macedonia/" target="_blank), so we opted for a more authentically local (and cheaper) way of getting there, and crammed on to an overloaded public bus for just €1 per person. It wasn't entirely dissimilar to an Albanian furgon in terms of comfort and roadworthiness, and we bumped and juddered our way around the eastern shore of the bay towards Perast.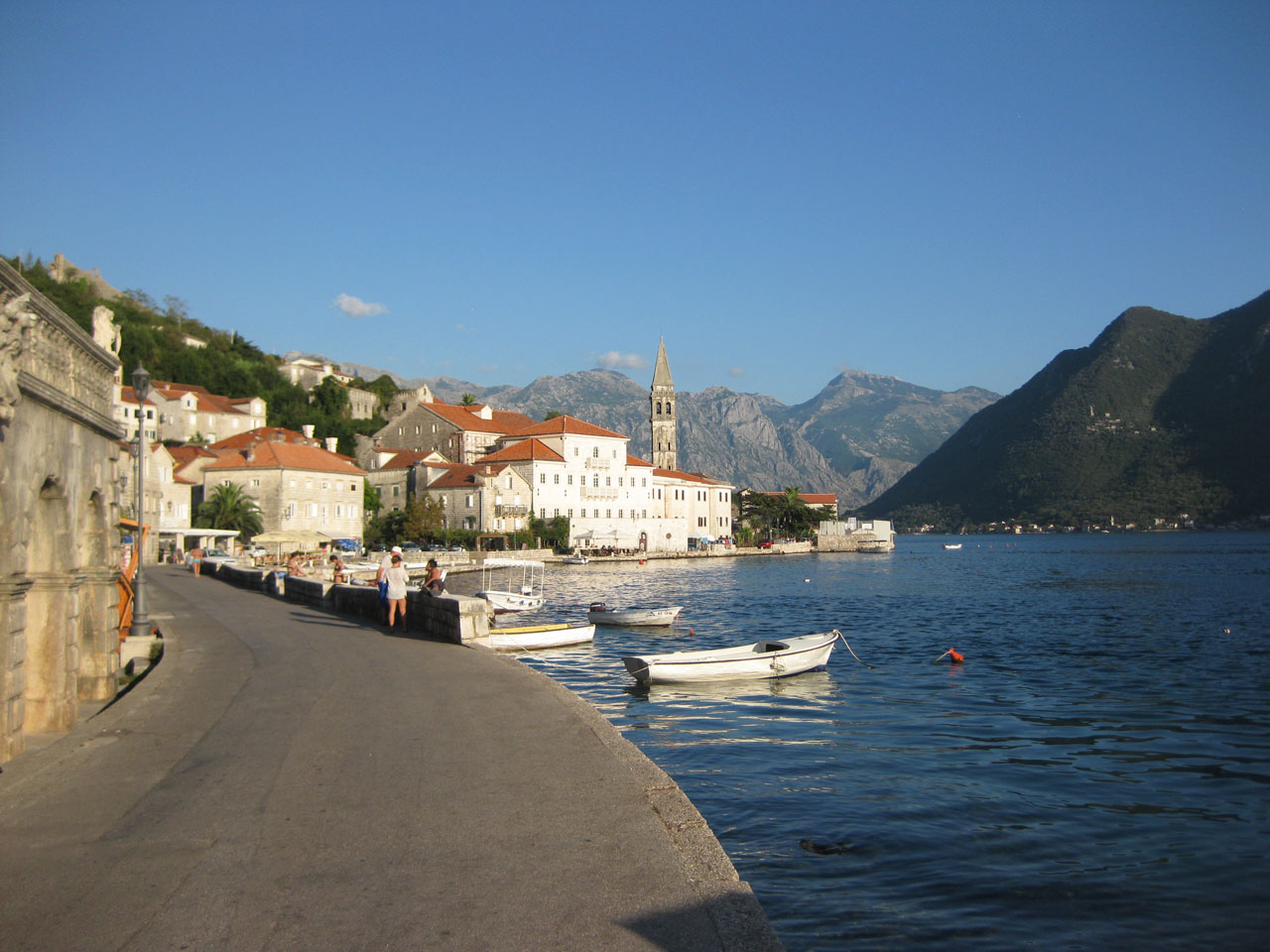 Perast is another incredibly picturesque little town, bearing the very visible fingerprints of the Venetians who built it, and it looks out across the water towards the two tiny islands of Sveti Đorđe (St George) and Gospa od Škrpjela (Our Lady of the Rocks), each of which is home to a church and not much else. We didn't bother with a boat trip over to the islands, figuring that the view was probably better from the shore, and spent another lazy afternoon on a beach instead, trying not to slide off the world's most badly designed sun loungers.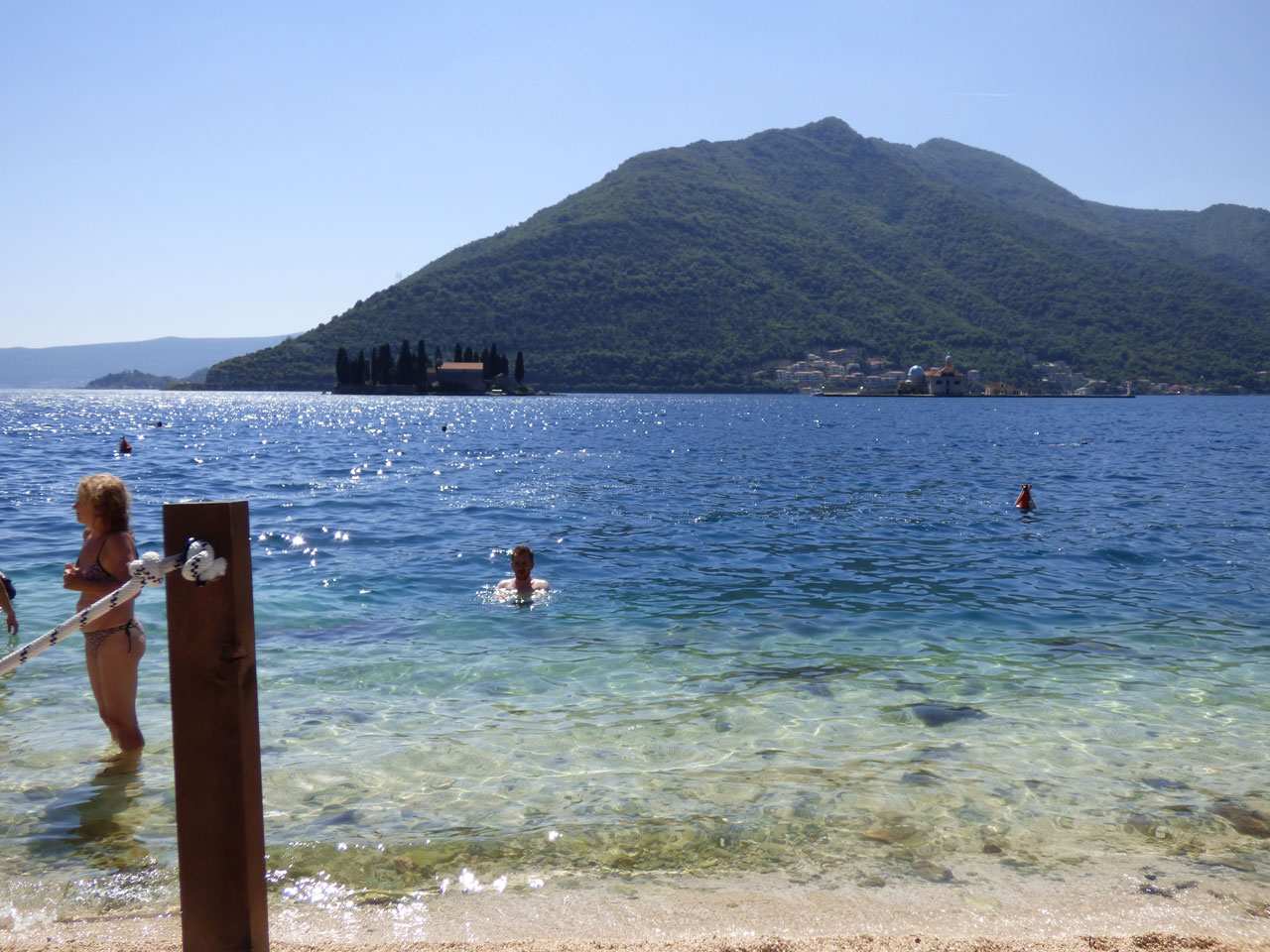 The following morning it was already time to move on to the final stop of our whirlwind tour of the Balkans, [Dubrovnik](http://www.nothere.co.uk/dubrovnik-war-peace/" target="_blank), which meant one more bus journey and one more border crossing. Having spent only three days in Montenegro, in a particularly touristy area, I'm not sure if we really got a sense of what differentiates the country from her neighbours. I wondered if this was also a reflection of a conflicted national identity: the country is still young, and the independence referendum in 2006 was closely fought, with around 45% of the population voting to remain in the union with Serbia. There didn't seem to be any of the signs of a defiant, newly confident nationalism that we'd encountered in Macedonia, where we'd seen flags and statues everywhere. Then again, perhaps the Montenegrins feel more at ease with who they are, and don't feel the need to shout about it. Either way, I'd love to go back and see more of the country one day, away from the crowds and the cruise ships of the coast.