Gori & Mtskheta: Saints and sinners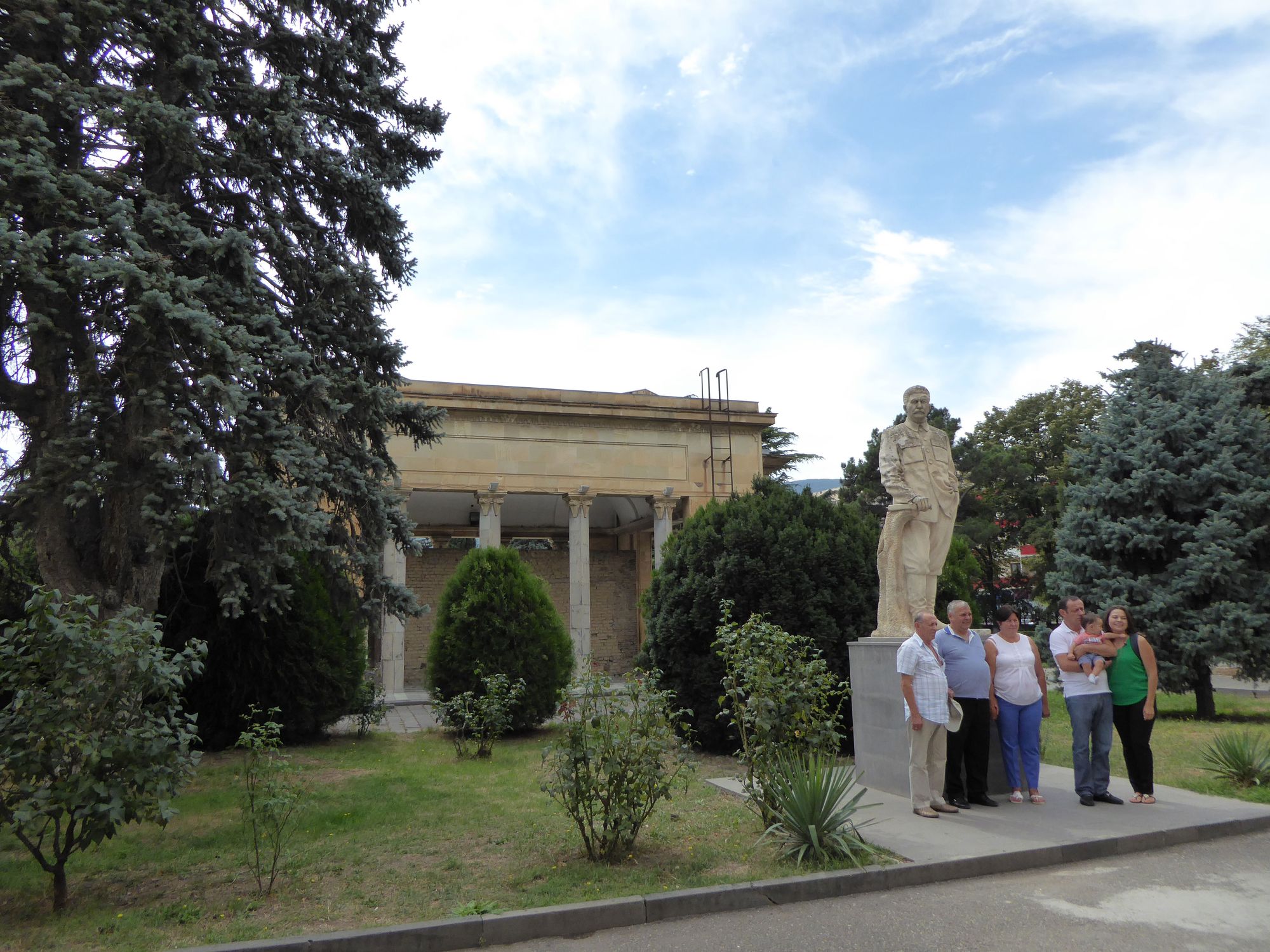 Imagine travelling to the little Austrian town of Braunau, which sits by the river Inn on the German border, and arriving in the main square to find people smiling and posing for photos in front of a statue of Adolf Hitler, on a street named after Adolf Hitler, in front of a museum dedicated to Adolf Hitler's life.
The idea is so crass as to be almost unimaginable, but a very similar scene confronted us when we stepped off the bus in the Georgian town of Gori. Just as Braunau spawned one of the twentieth century's most murderous dictators, so Gori was the birthplace in 1878 of Ioseb Besarionis dze Jughashvili, better known to the world as Joseph Stalin.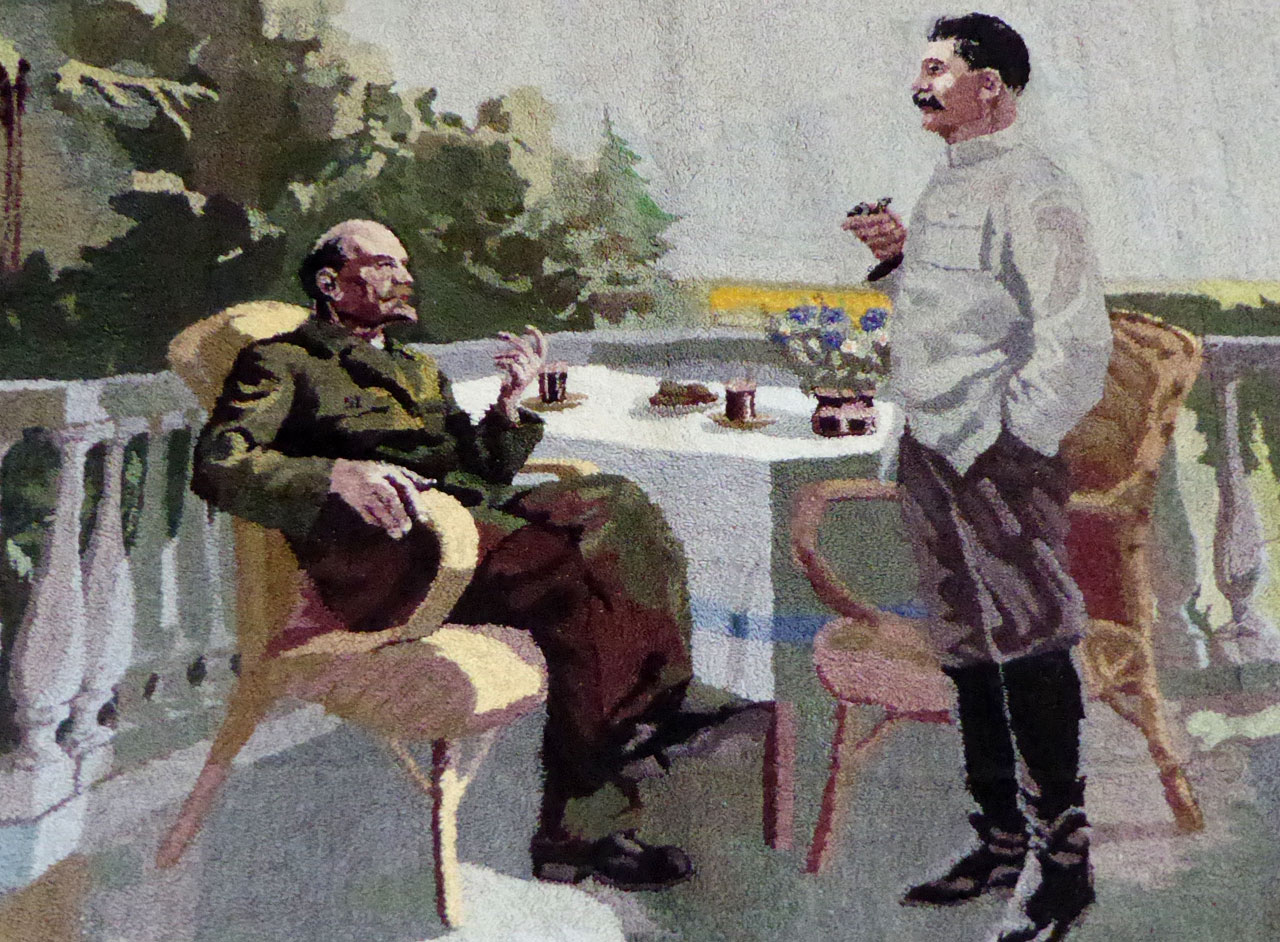 The cult of Stalin is still very much alive in Gori, though this seems to be more a case of pride in a local boy who rose to the top, rather than any real nostalgia for the Soviet system. The centre of the town is bisected by Stalin Avenue, which led us to the spot where Stalin's childhood house stands, encased within a temple-like structure adorned with hammers and sickles.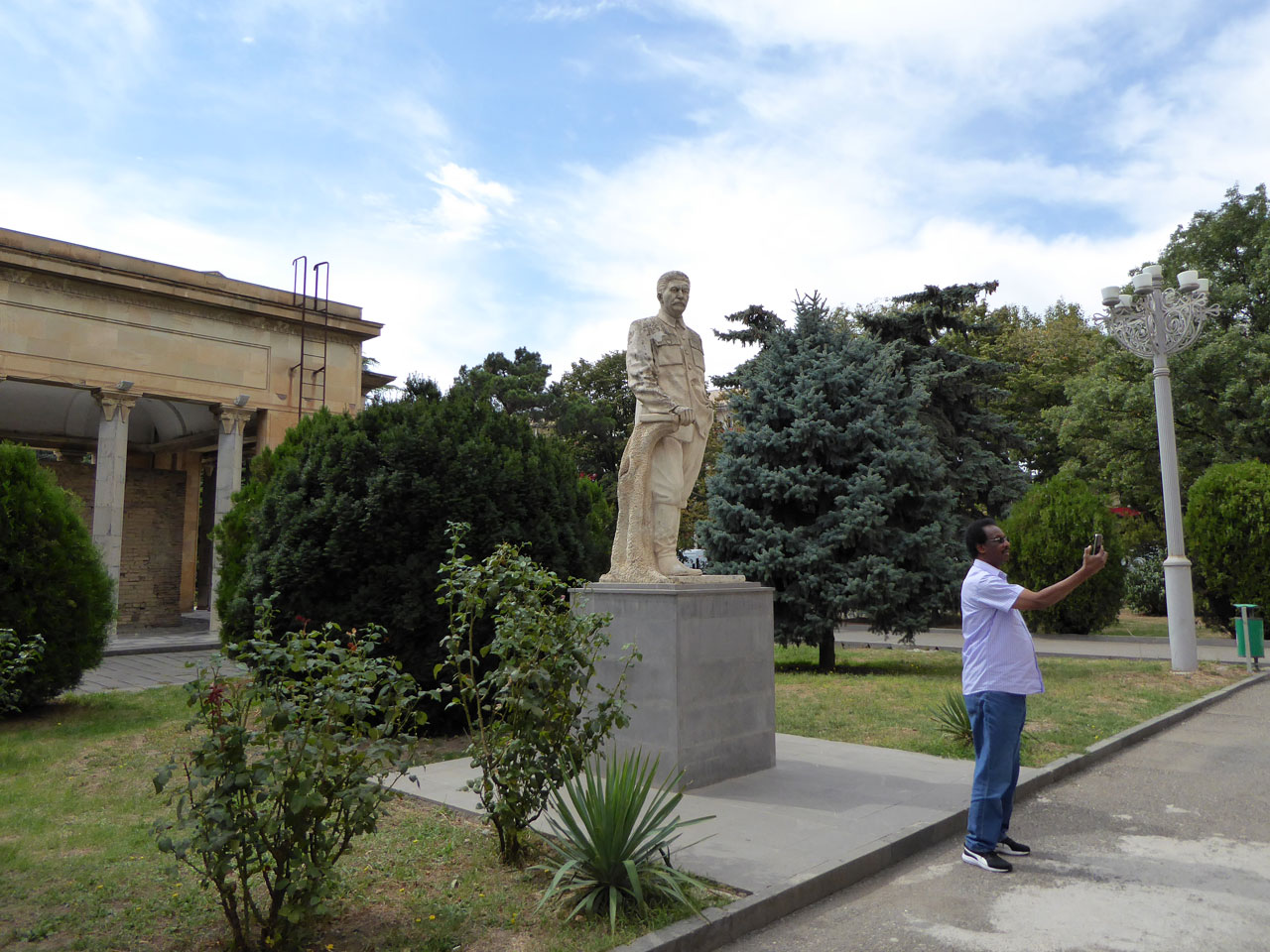 There is still a statue of Stalin just outside the house, and we watched a steady stream of people posing for photos or taking selfies in front of it. It was hard to know what to think really. Here was one of history's most notorious tyrants, a ruthless dictator responsible for the death of millions, reduced to a sort of kitsch, ironic photo opportunity for tourists.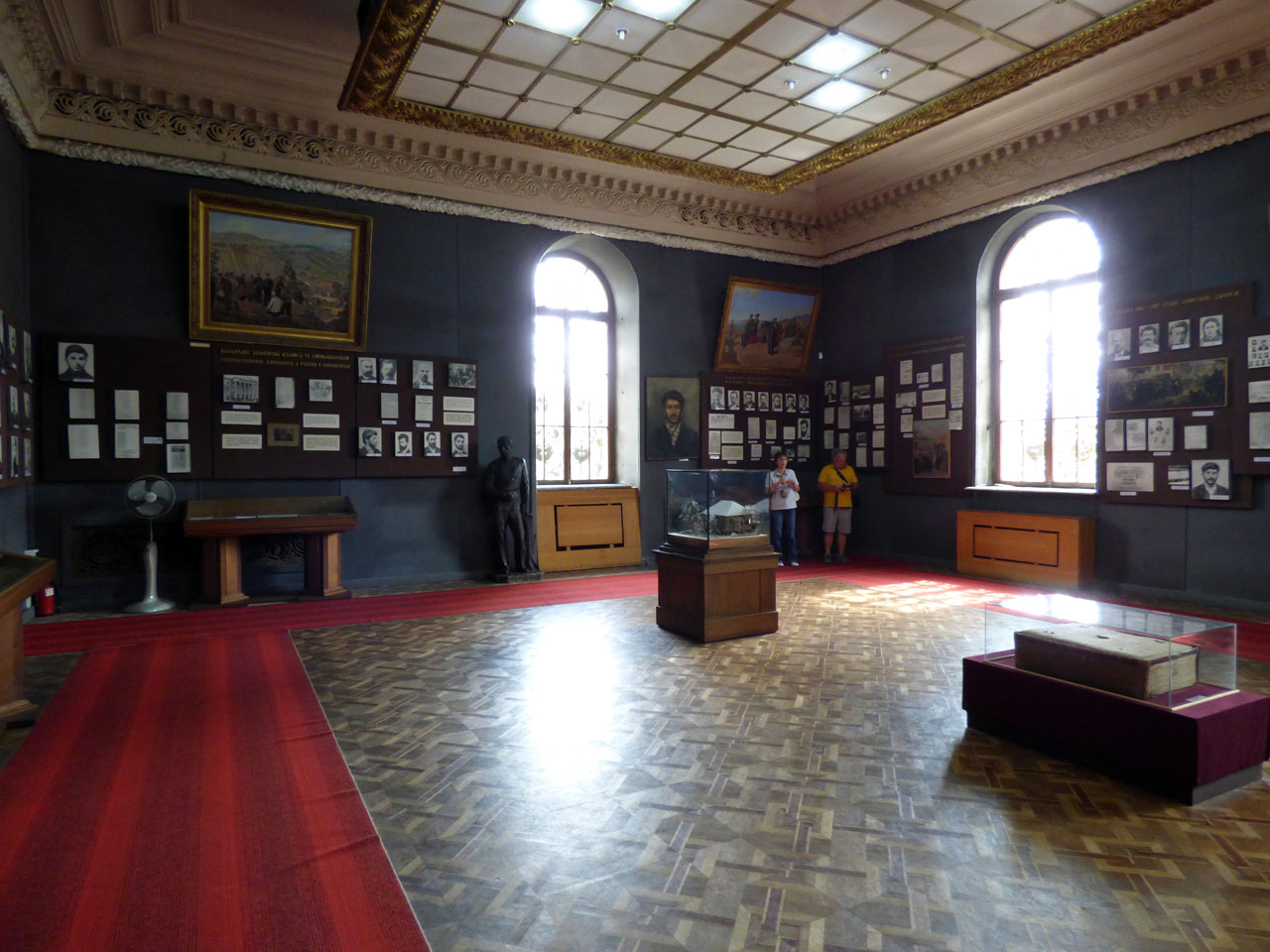 Opposite the statue was the Stalin Museum, a rambling collection of photos, pamphlets, press cuttings and trinkets that still presented an overwhelmingly sympathetic view of Stalin and the Soviet system. Amongst the five year plans and military accolades were creepy paintings of Stalin cradling little girls in his arms, and cabinets filled with the ostentatious gifts showered upon him by other world leaders.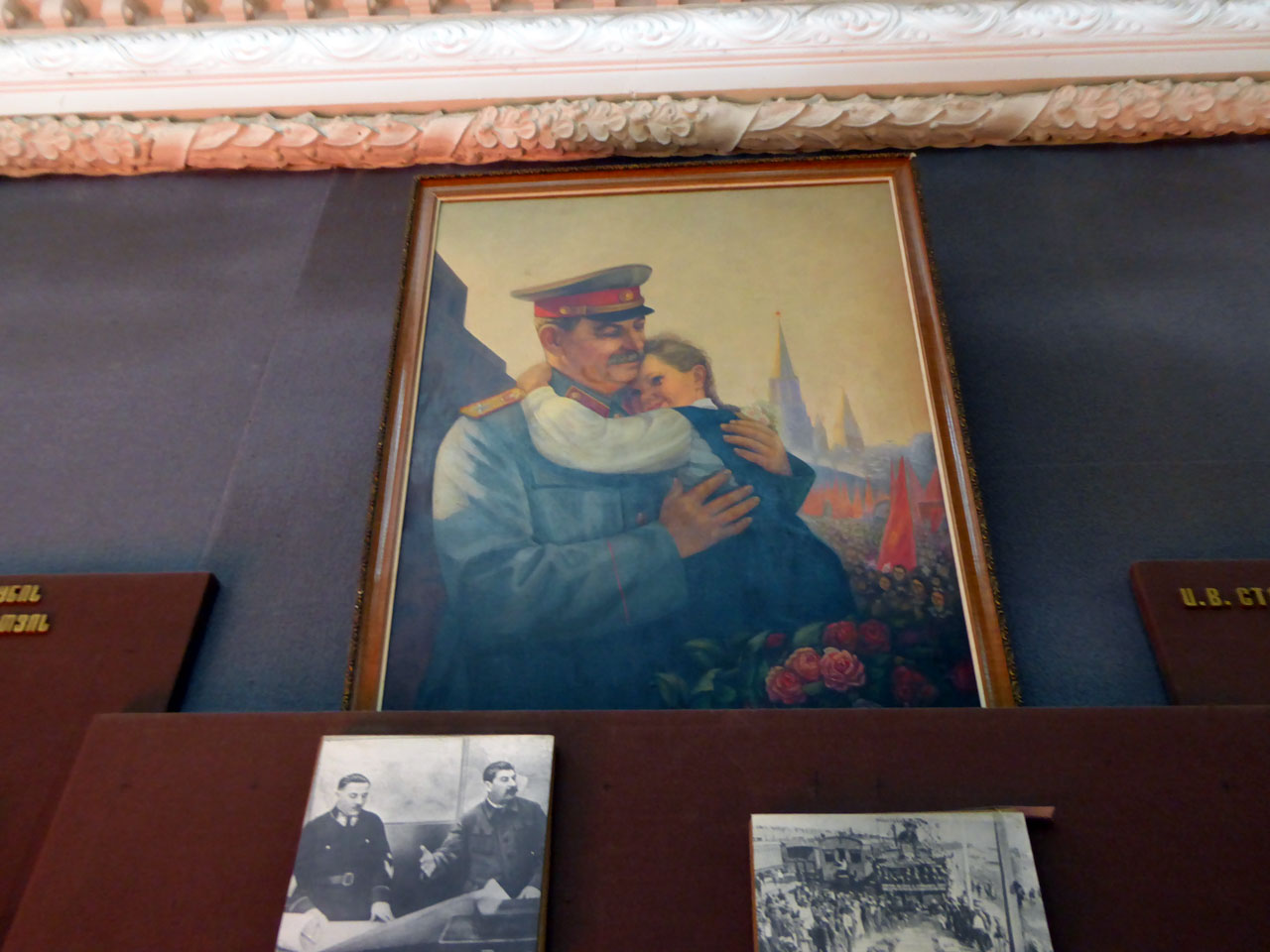 One room was given over to a copy of Stalin's death mask, housed within a circular structure that had the feeling of a shrine. We struggled to find any information at all about the gulags or the purges, but there was a wide selection of Stalin souvenirs available at the gift shop, including cigarette lighters, decorative plates and bottles of brandy emblazoned with that famously moustachioed face.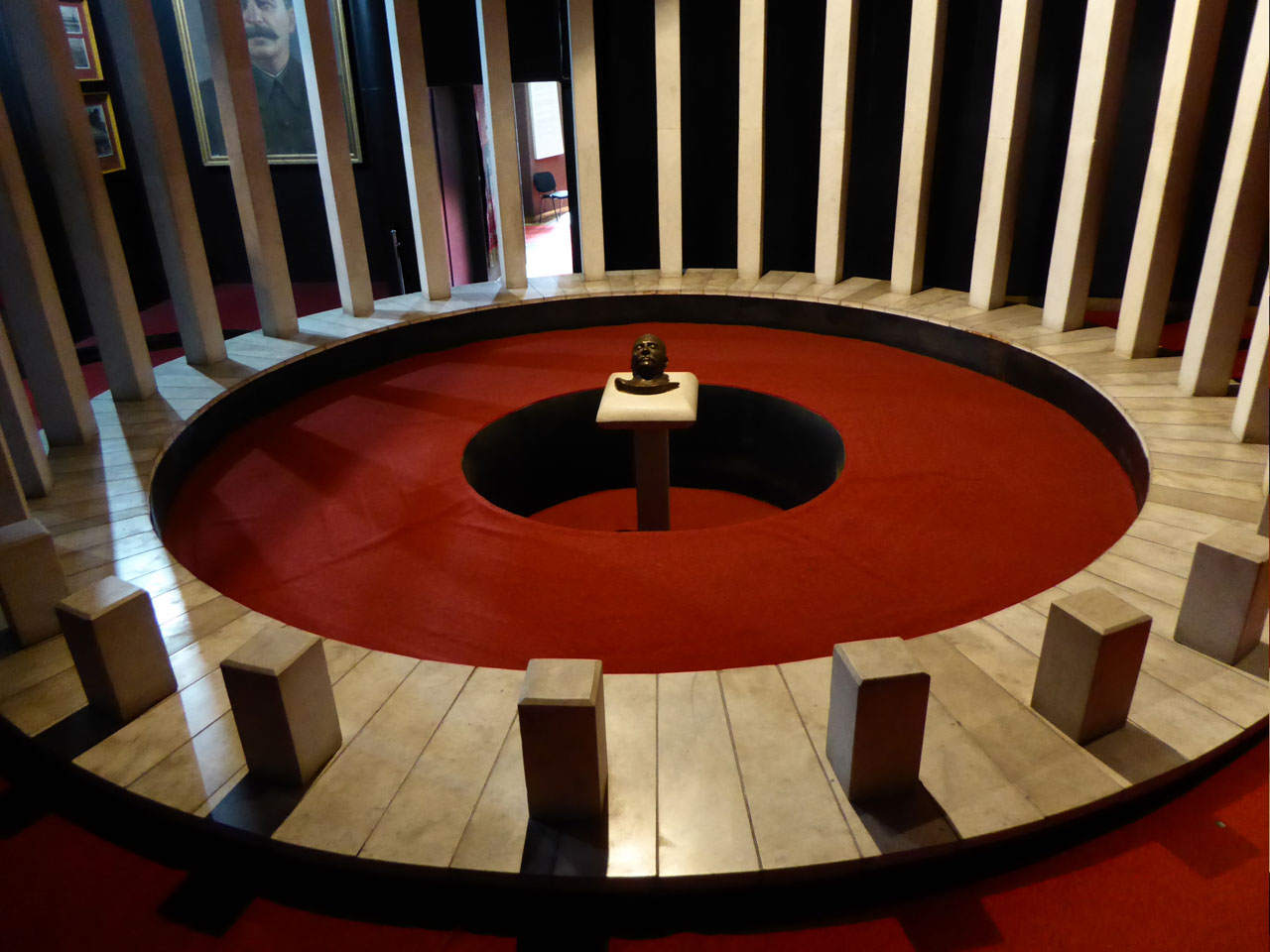 Back outside the museum we had a peek inside Stalin's armour-plated train carriage, in which he travelled to the Yalta Conference in 1945. The decor was surprisingly austere, and his bedroom a little on the small side. Rather more remarkable was the supermarket just across the road, adorned with a huge picture of Stalin gazing down benevolently on twenty-first century Gori's shoppers.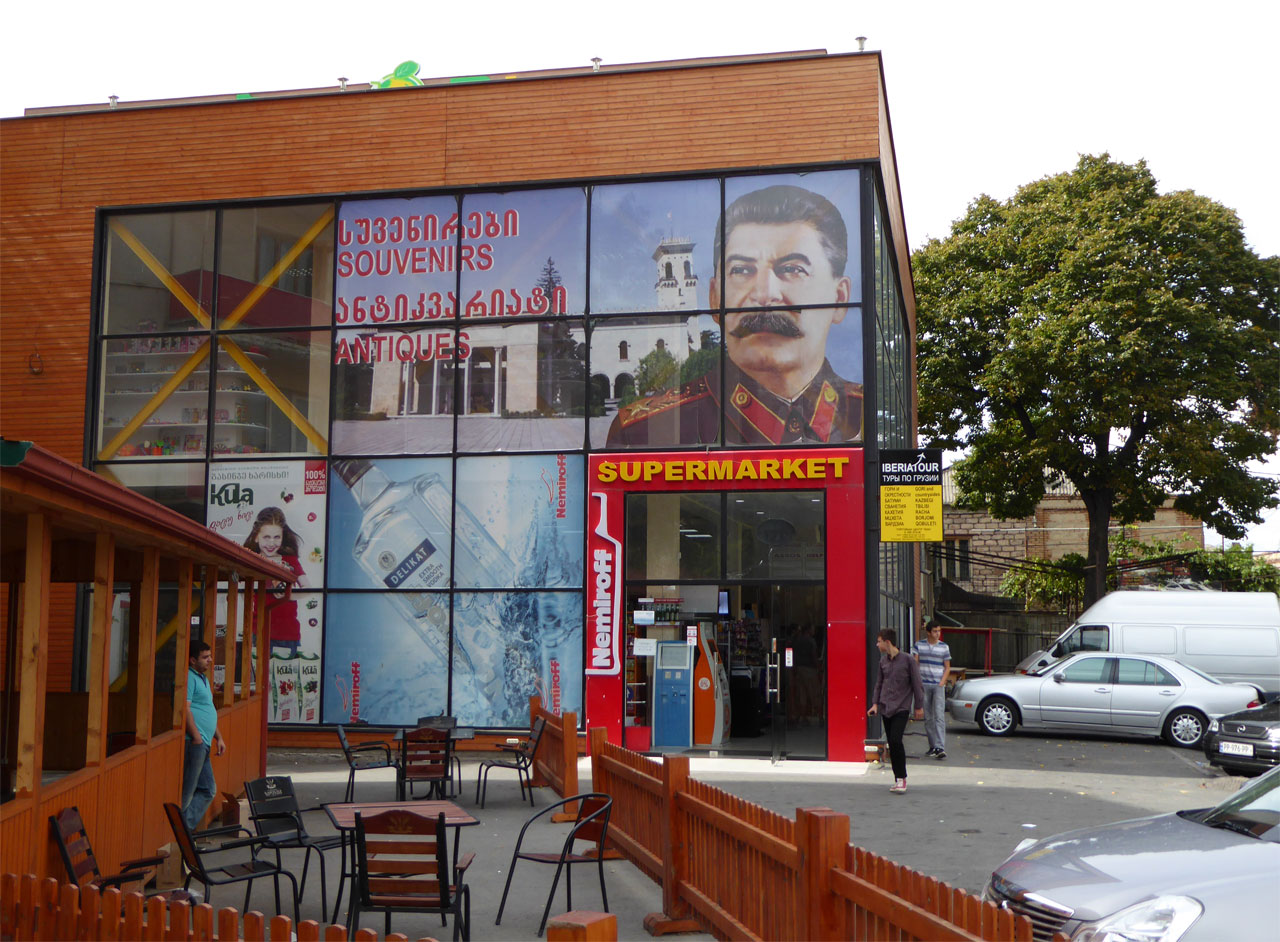 We were starting to suffer from Stalin fatigue, so we decided to see what else Gori had to offer, which didn't take all that long. Much of the city seemed pretty run down, although this is perhaps not surprising. Gori was on the front line of the 2008 war with Russia, with dozens of civilians killed by airstrikes. The Russians were accused of indiscriminately dropping cluster bombs on residential areas, and surrounding villages suffered looting and arson at the hands of Russian-backed Ossetian militias. Not far from Stalin Avenue was a memorial to those who died during the war, a slightly unsettling circle of statues with their limbs or faces missing.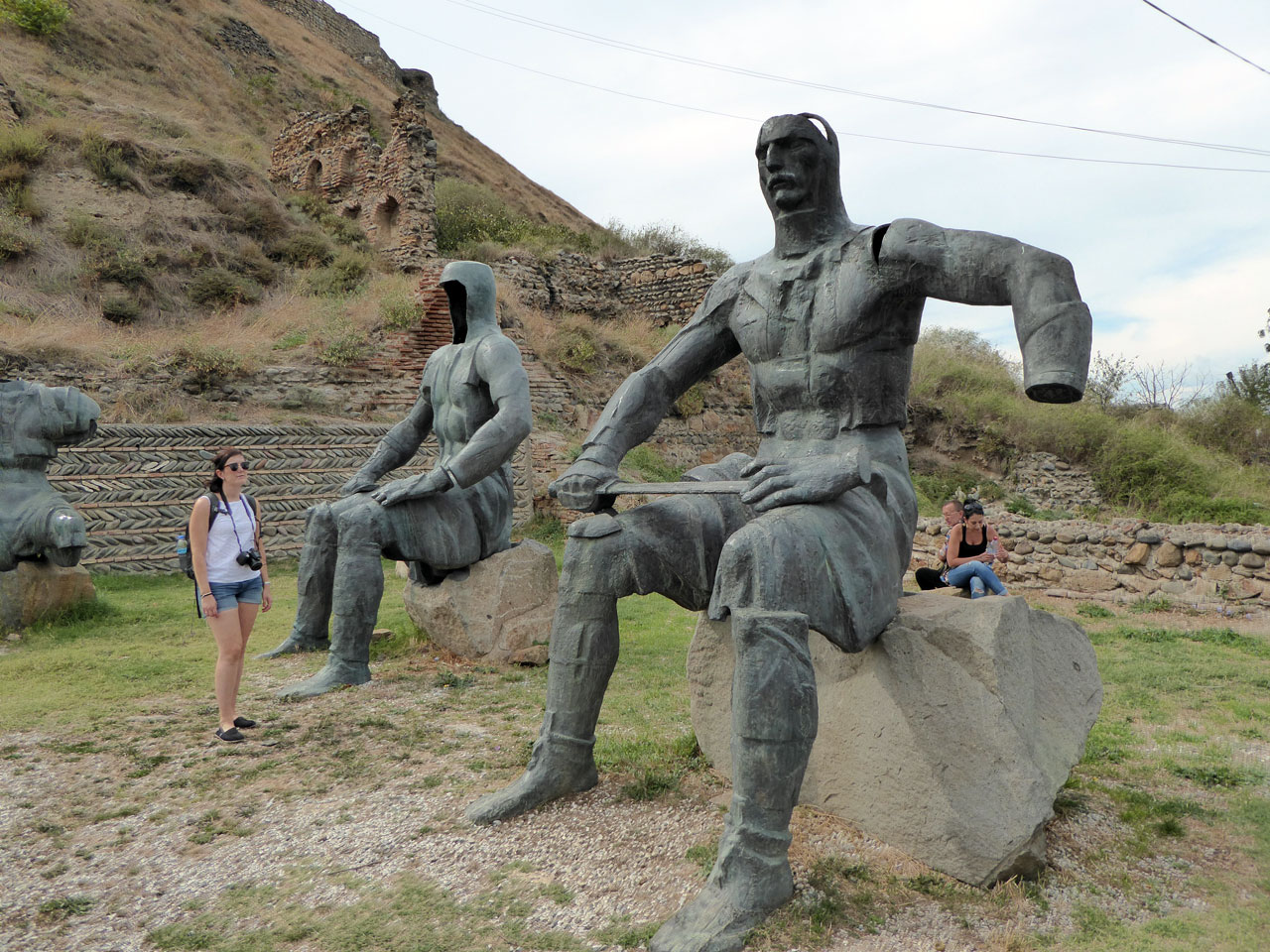 There were more reminders of the war later that day, on our journey east from Gori to Mtskheta. The main road passed close to the border with South Ossetia, the breakaway republic now effectively under Russian occupation, and we could just about glimpse the ramshackle border posts through the trees. We passed row after row of identical red-roofed houses, simple structures that were built to house refugees from the 2008 conflict. Ethnic cleansing on both sides of the disputed frontier left many with no choice but to flee their homes, and there are still around a quarter of a million internally displaced people in Georgia.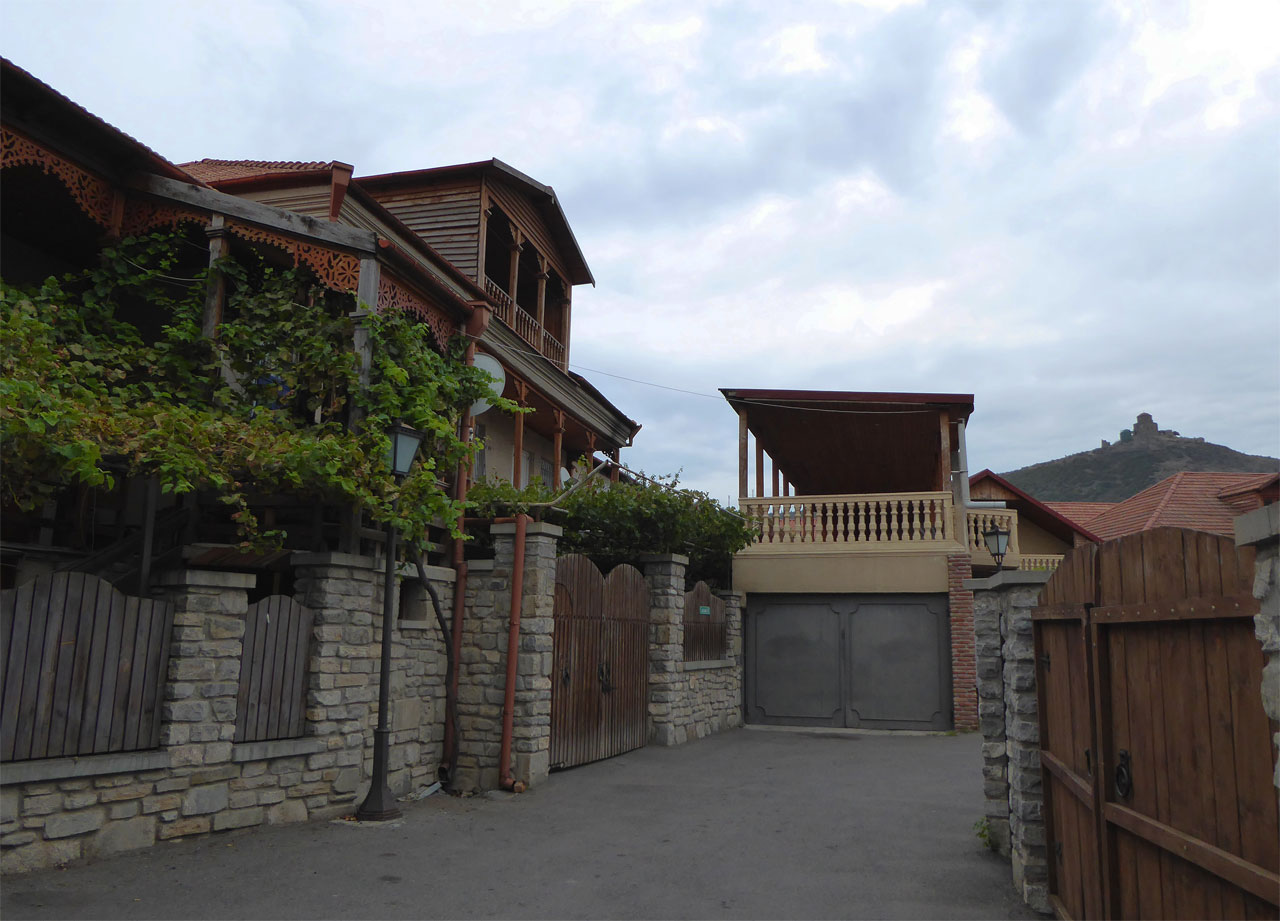 This dark recent history seemed much less tangible in Mtskheta, an attractive town where the streets were lined with souvenir shops, overlooked by the hilltop Jvari church. Mtskheta is a place of huge spiritual importance to Georgians, and is bound up with Georgia's conversion to Christianity by Saint Nino in the fourth century. Georgia was only the second country in the world (after Armenia) to adopt Christianity as a state religion, and Mtskheta remains the headquarters of the Georgian Orthodox Church.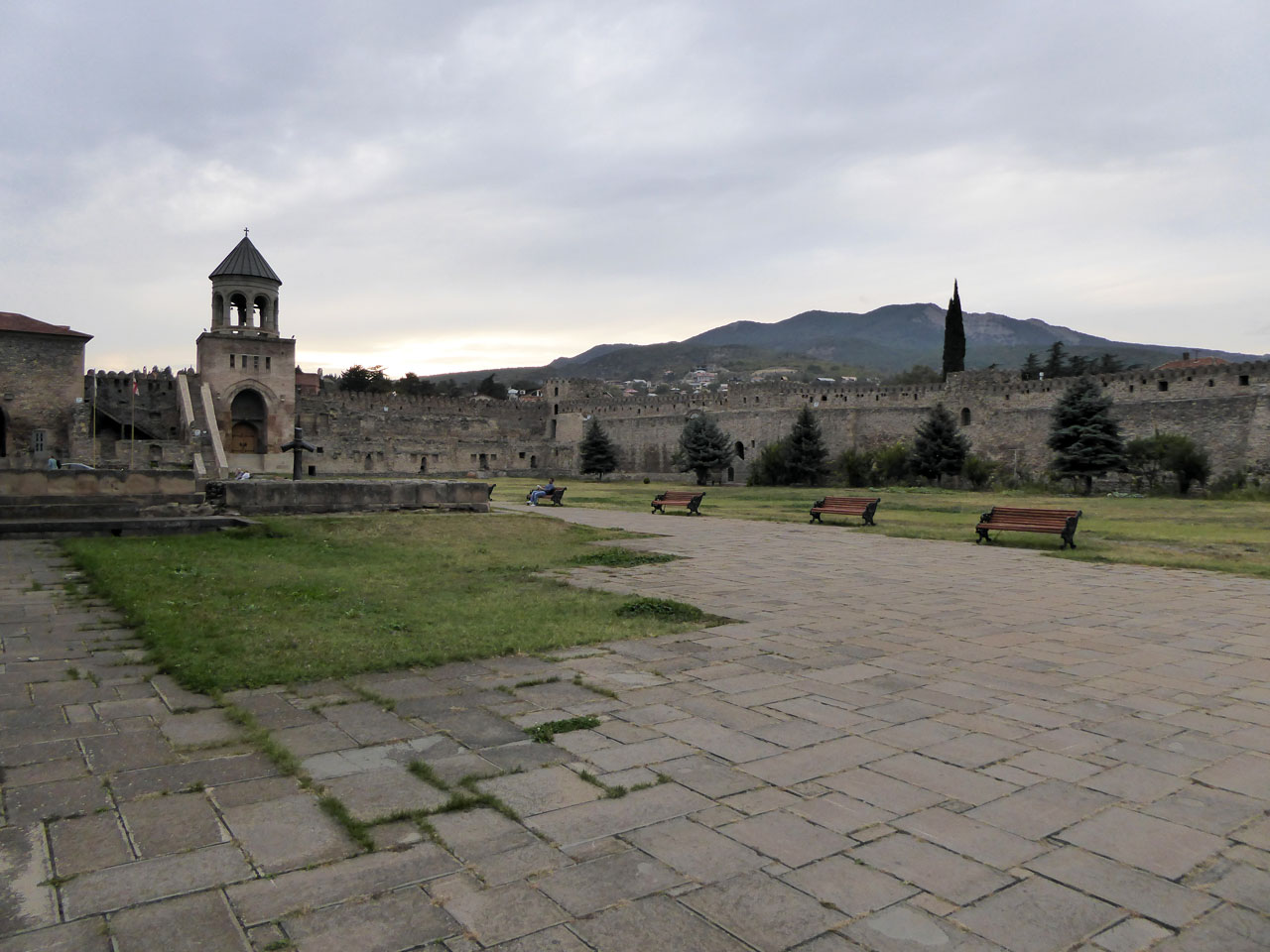 Georgia has been invaded by foreign powers many times over the centuries, including Muslim armies from Persia, Arabia and Central Asia, so it's perhaps no surprise that Mtskheta's Svetitskhoveli cathedral is protected by an outer defensive wall. Inside the cathedral the air was heavy with incense, and the walls reverberated with the sound of psalms being chanted. As an atheist who grew up in a Christian country I don't usually find churches all that interesting, but in Georgia it felt like we were witnessing a form of Christianity that was both older and more vital, a resilient faith that had held out in these mountains against wave after wave of invaders.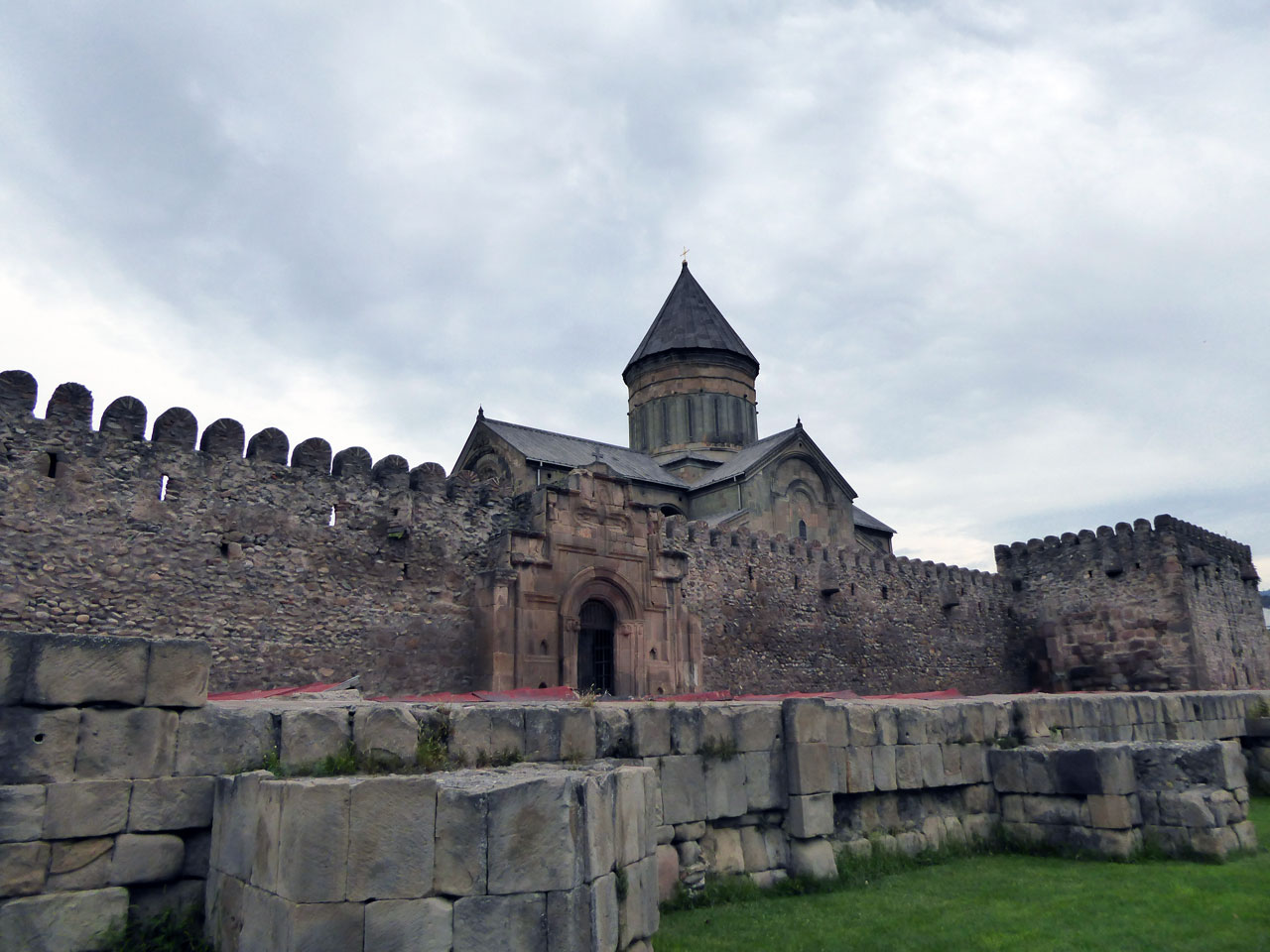 The robe of Christ is said to lie underneath the cathedral's central nave, and the spot is marked by a pillar adorned with colourful frescoes. The legend goes that the robe was brought from Jerusalem back to Mtskheta by a local Jew named Elias, who acquired it from a Roman soldier after the crucifixion. When Elias returned to Mtskheta his sister, Sidonia, placed her hands on the robe, and was so overcome with emotion that she died on the spot, clutching the garment so tightly that she had to be buried with it.
Like all the stories surrounding these old religious relics, it seemed improbable. But then I would have said the same thing about a Stalin-themed supermarket before our trip to Gori. Perhaps Georgia is just an improbable sort of place.