Colonia del Sacramento & Montevideo: A Uruguayan interlude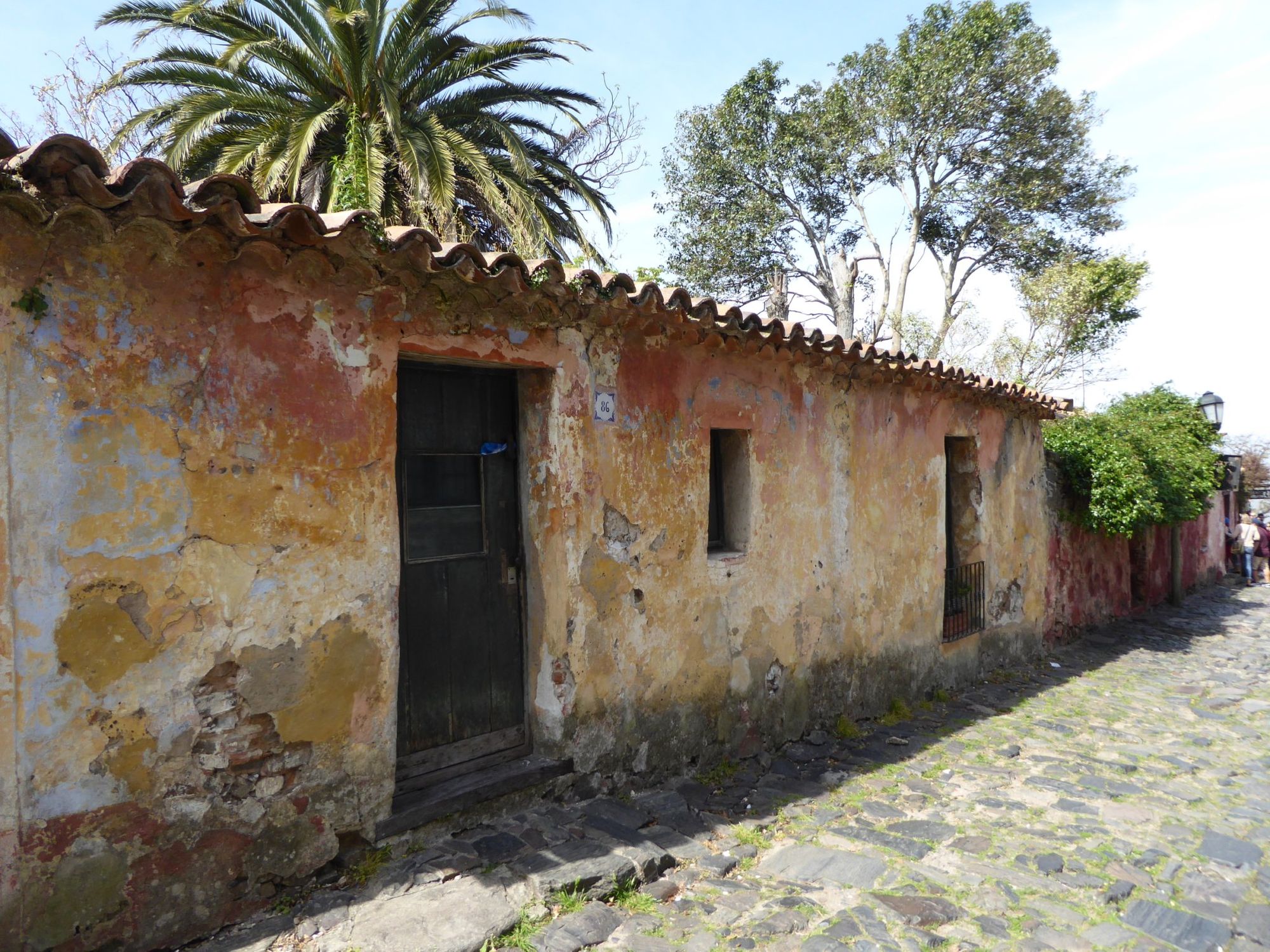 Little Uruguay, wedged between the South American giants of Brazil and Argentina, doesn't feature that frequently on backpacking itineraries. But I've always been attracted to places that I don't know much about, so we decided to include a brief detour to Uruguay before plunging headlong into Argentina.
After flying south from Iguazu to Buenos Aires we headed immediately for the port, where we boarded a ferry across the River Plate to the little town of Colonia del Sacramento. Colonia is a popular day-trip destination from Buenos Aires, but we had the luxury of a couple of nights there to properly explore the town and enjoy the peace and quiet after all the tour groups had gone home.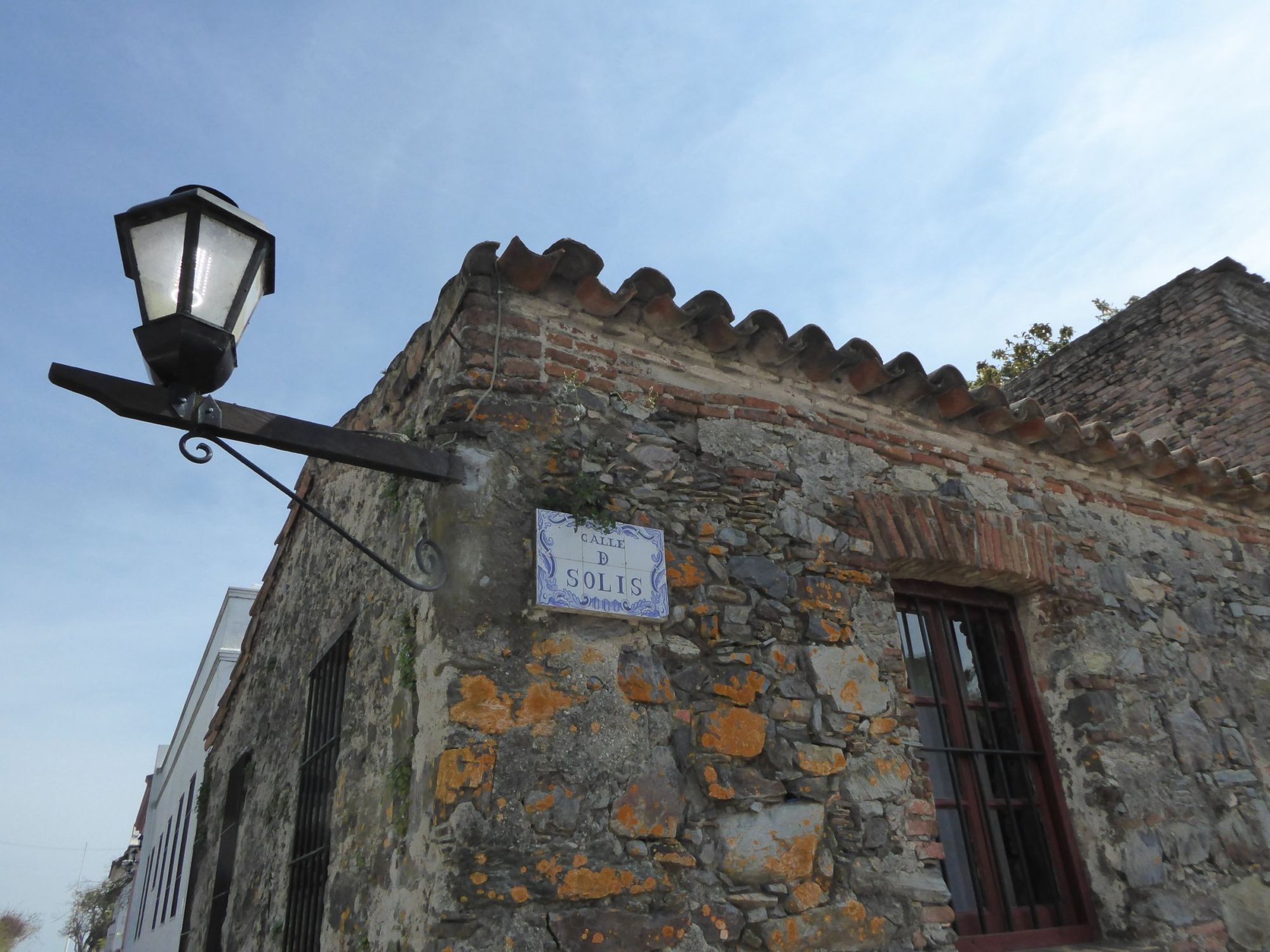 Colonia was founded by the Portuguese in 1680, and was used as a base from which to smuggle goods into Buenos Aires. The town changed hands several times over the years between the Portuguese and Spanish, and though it ultimately ended up being part of Spanish-speaking Uruguay, the historic centre still has a distinctive Portuguese colonial flavour.
The entirety of the old town has been declared a UNESCO World Heritage Site, and it's so small that you can easily see it all in a day. The weather gods were kind to us and we were bathed in warm spring sunshine as we ambled along picturesque streets paved with chunky cobblestones that were reminiscent of Paraty. Some buildings were smartly painted in bright, summery colours, while others sat beautifully dilapidated, with multi-hued layers of paint peeling away and flowers taking root in the cracks. The streets were signposted with Portuguese-style azulejo tiles, and had evocative names like Calle de los Suspiros - the 'street of sighs'.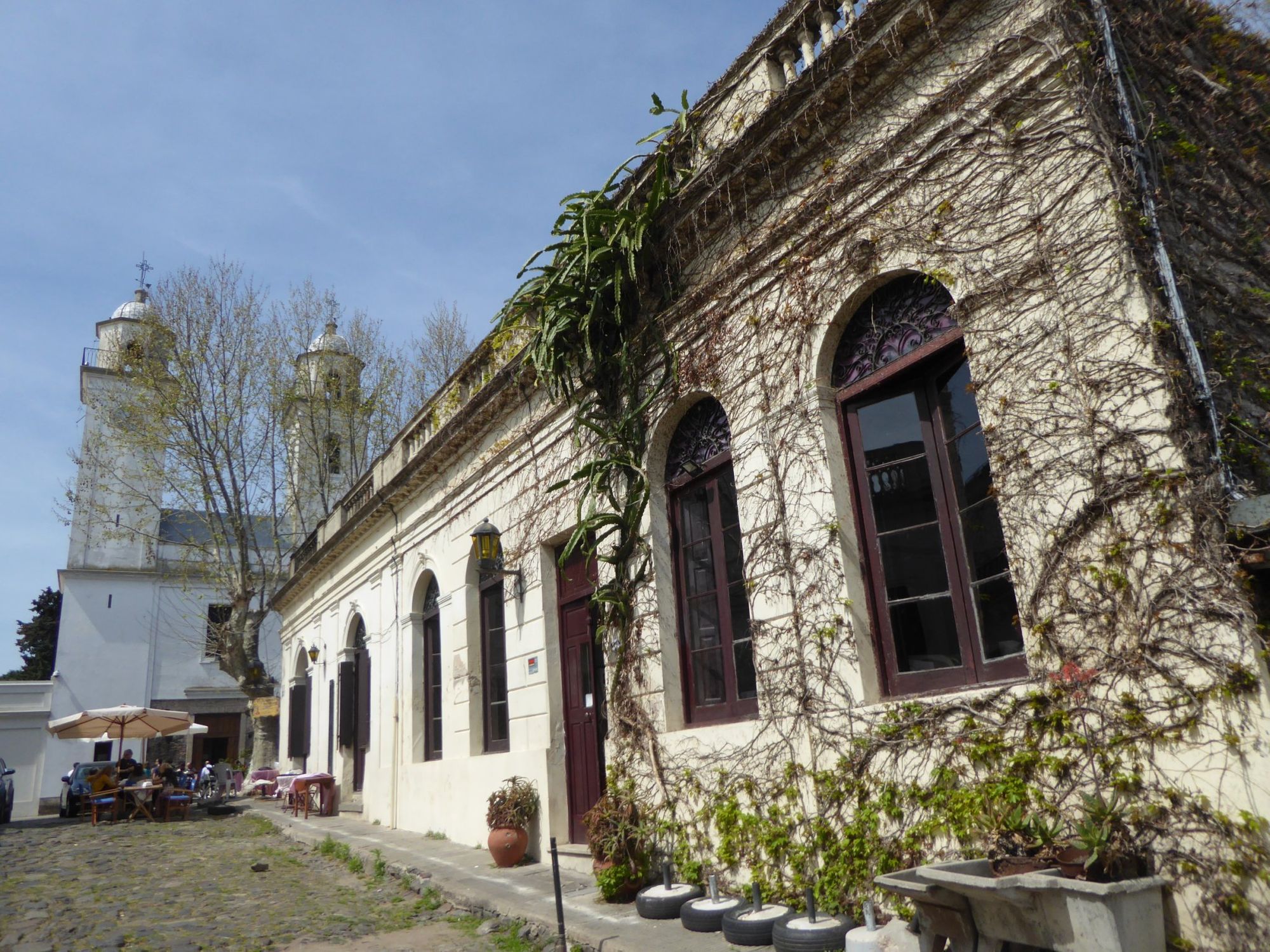 We stopped for lunch just opposite the 19th century Basílica del Santísimo Sacramento, where we got our first taste of one of Uruguay's most iconic culinary creations, the chivito. This heart-attack-on-a-plate sandwich was stuffed with steak, bacon, cheese, a fried egg, lettuce, tomatoes and mayonnaise, dribbling meat juice down my fingers as I bit into it. It was as disgustingly delicious as it sounds, so much so that I've been averaging one a day over the course of the weekend.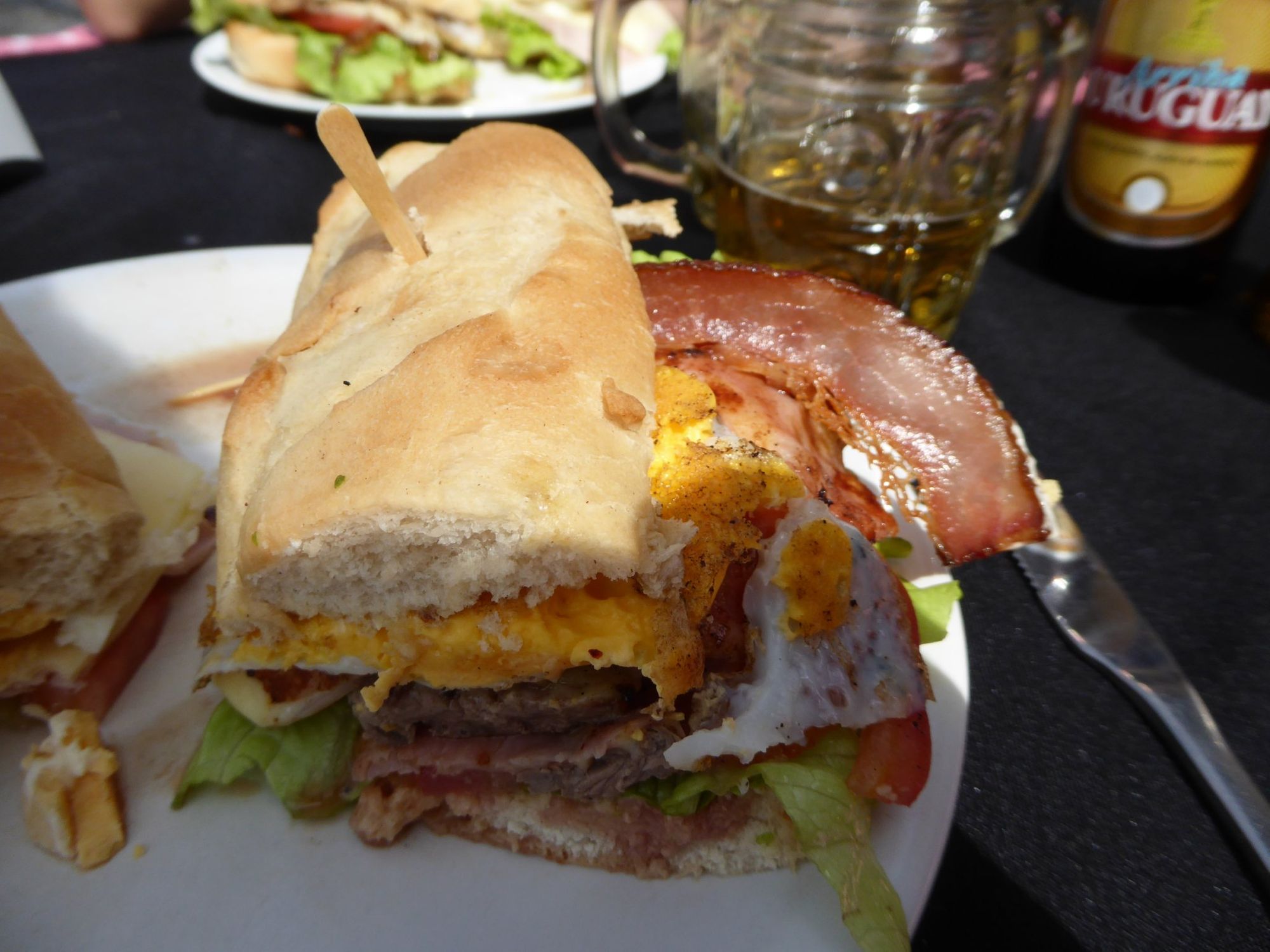 In the afternoon we decided to burn off our chivitos by borrowing a couple of bikes from our posada and cycling round the old town. I have an aversion to cycling that has its genesis in a couple of traumatic falls when I was a kid, and I hadn't really ridden a bike for about 20 years, but I figured this trip might be a chance to lay those demons to rest. Also it was Polly's birthday, so I thought I'd gift her the sight of me on a bike for the first time in our seven-year relationship. It was pretty hard going in places thanks to the cobbles, but other than an early wobble I managed to survive our gentle circuit of the old town without embarrassing myself.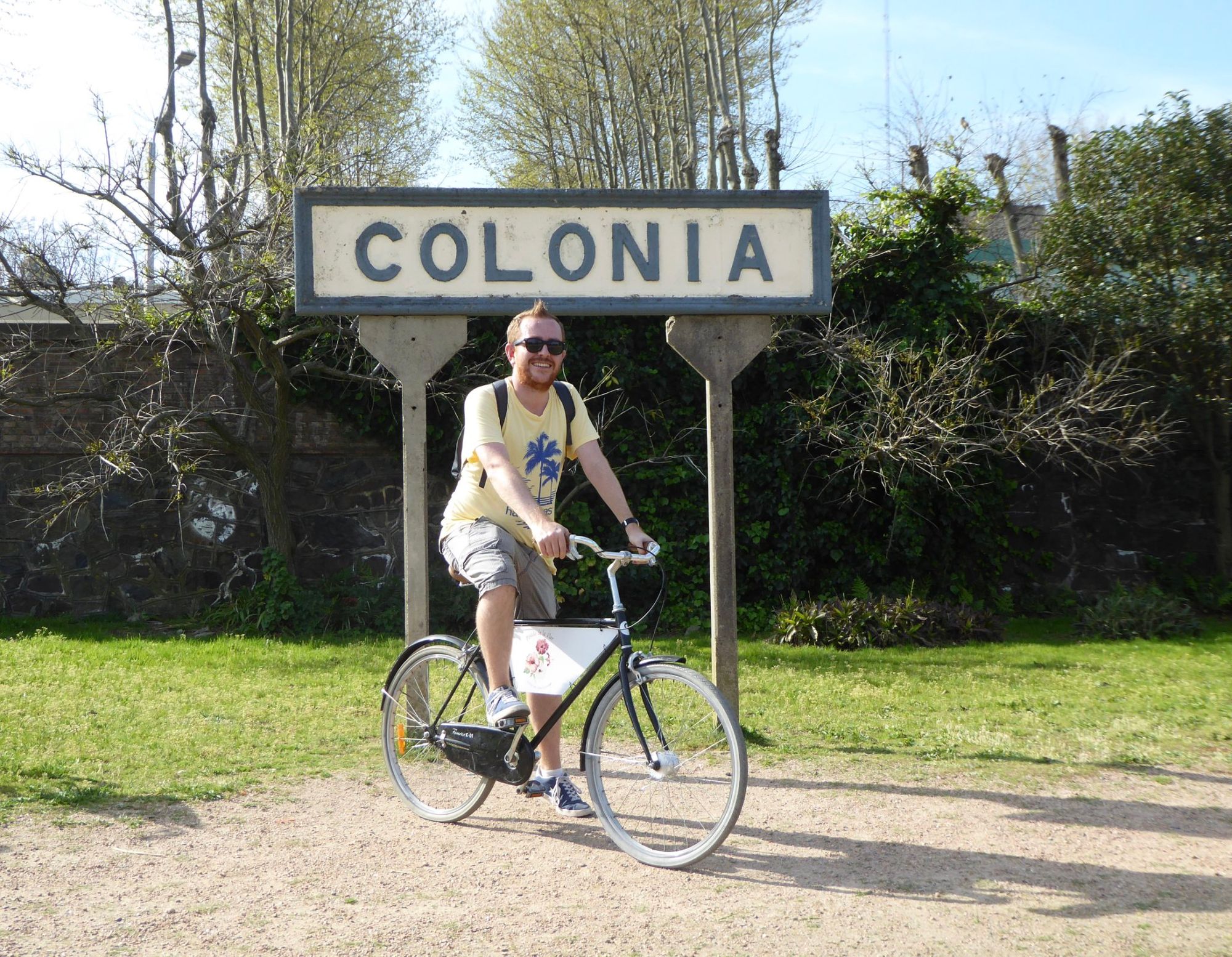 Colonia was a great place to spend a couple of days just bumbling around, and the Uruguayans that we met had a warmth and a sort of earthiness to them, subtly different to their neighbours. They're also obsessed with yerba mate, a type of bitter tea that is drunk at all hours of the day by Uruguayans of all ages. The tea is made from the leaves of a tree indigenous to this part of South America, mixed with hot water and drunk from a gourd-like cup through a metal straw called a bombilla. We saw people drinking it everywhere, carrying around their cup and flask of hot water, and there was something endearingly nerdy about otherwise suave and sophisticated-looking Uruguayans with a Thermos tucked under their arm.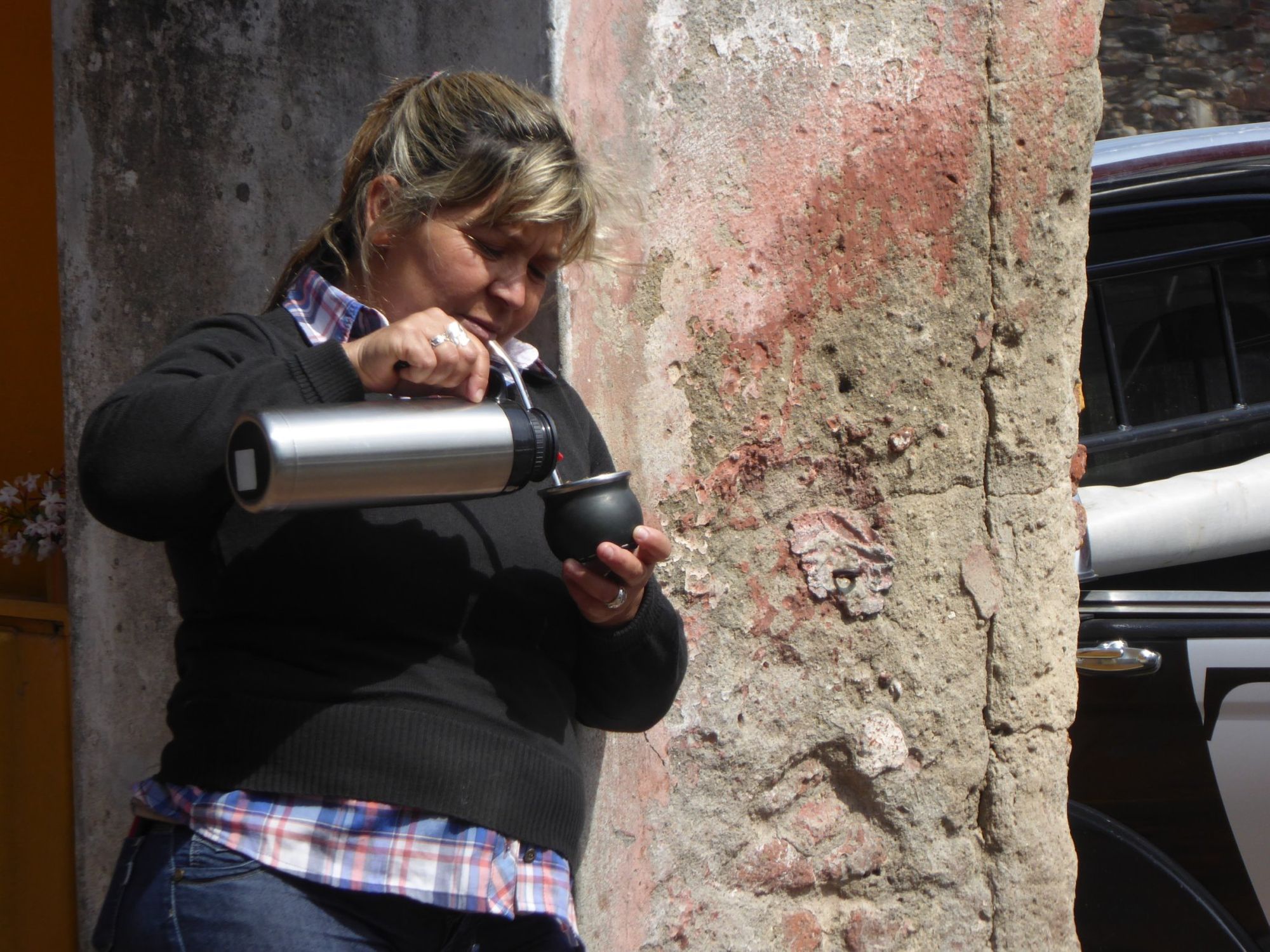 After two nights in Colonia we took a bus west to Montevideo, passing through a landscape of gently undulating hills speckled with cows and sheep. It could almost have been the UK, were it not for the palm trees and the squat colonial-style houses. Although Uruguay is about the same size as England and Wales, it has a population of just 3.5 million, and roughly a third of them live in Montevideo.
The Uruguayan capital is not the most immediately attractive of cities, a discordant jumble of grandiose Art Nouveau edifices and desperately ugly tower blocks. We also made the mistake of arriving on Saturday afternoon, around the time that most of the city centre shuts down for the weekend. Our plans to explore the area around our hotel on Saturday night were curtailed by a huge thunderstorm blowing in, and when we woke up on Sunday morning the streets were eerily deserted.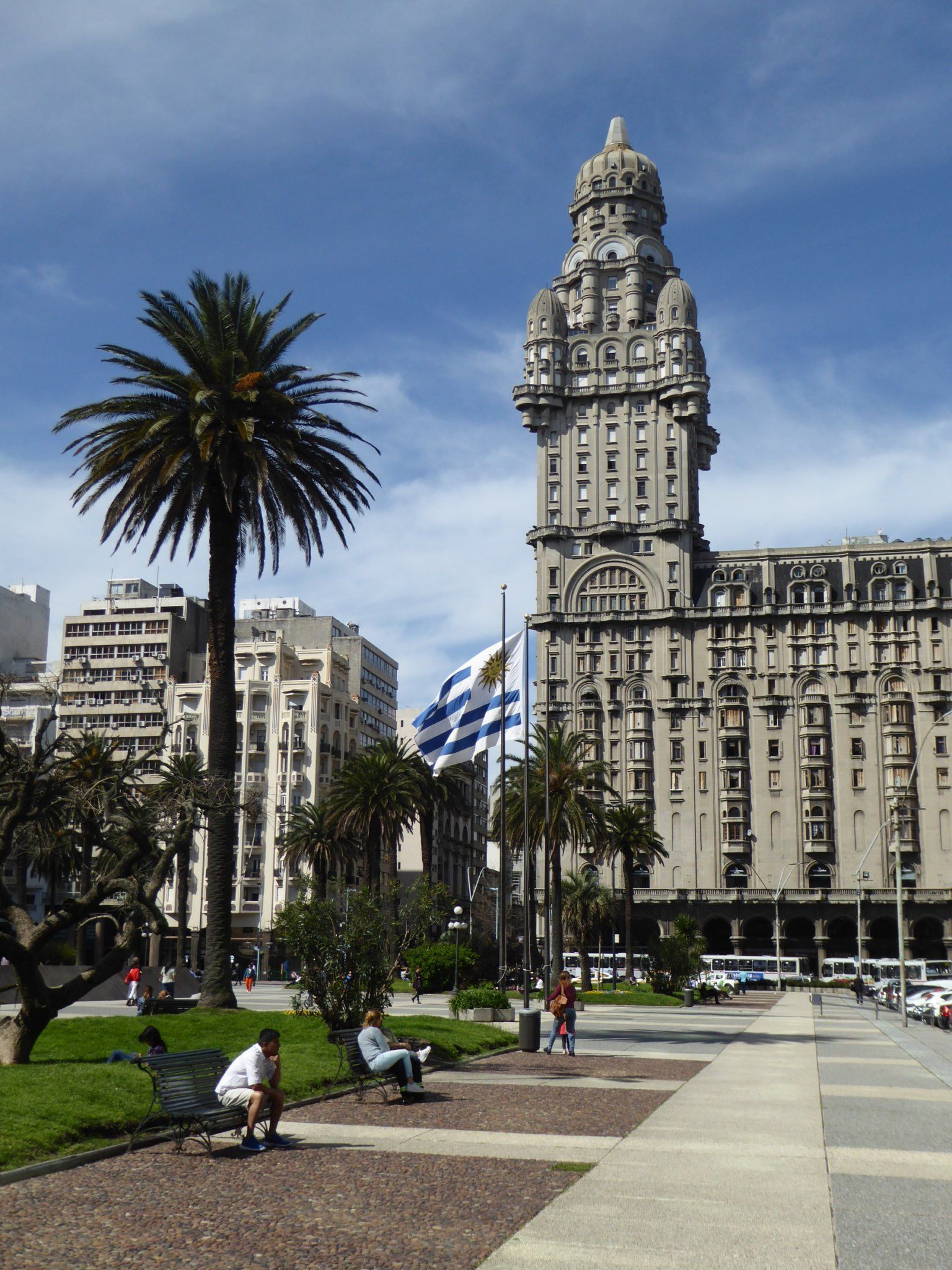 The friendly staff at our hotel advised us to wait until Monday to visit the old town, and directed us instead to the Tristán de Narvaja flea market, just off the city's main thoroughfare, Avenida 18 de Julio. This rambling market was one of the few parts of the city where people seemed to gather in any numbers on a Sunday, perusing stalls selling an assortment of second-hand tat, live puppies, plants, chivitos and plenty more besides. The air was also fragrant with the smell of cannabis, which has been legal in Uruguay since 2013.
Another popular spot for montevideanos on a Sunday is the Rambla, a promenade that stretches for several miles along the River Plate. With everywhere else seemingly either closed or deserted, we went for a long walk along the Rambla as far as the city's Holocaust Memorial, where a gap in the sea wall symbolises the terrible rupture in the lives of Europe's Jews. Other unexpected sights included a statue of Confucius and a giant McDonalds, and all along the Rambla we saw people cycling, jogging or out for a stroll with their Thermos.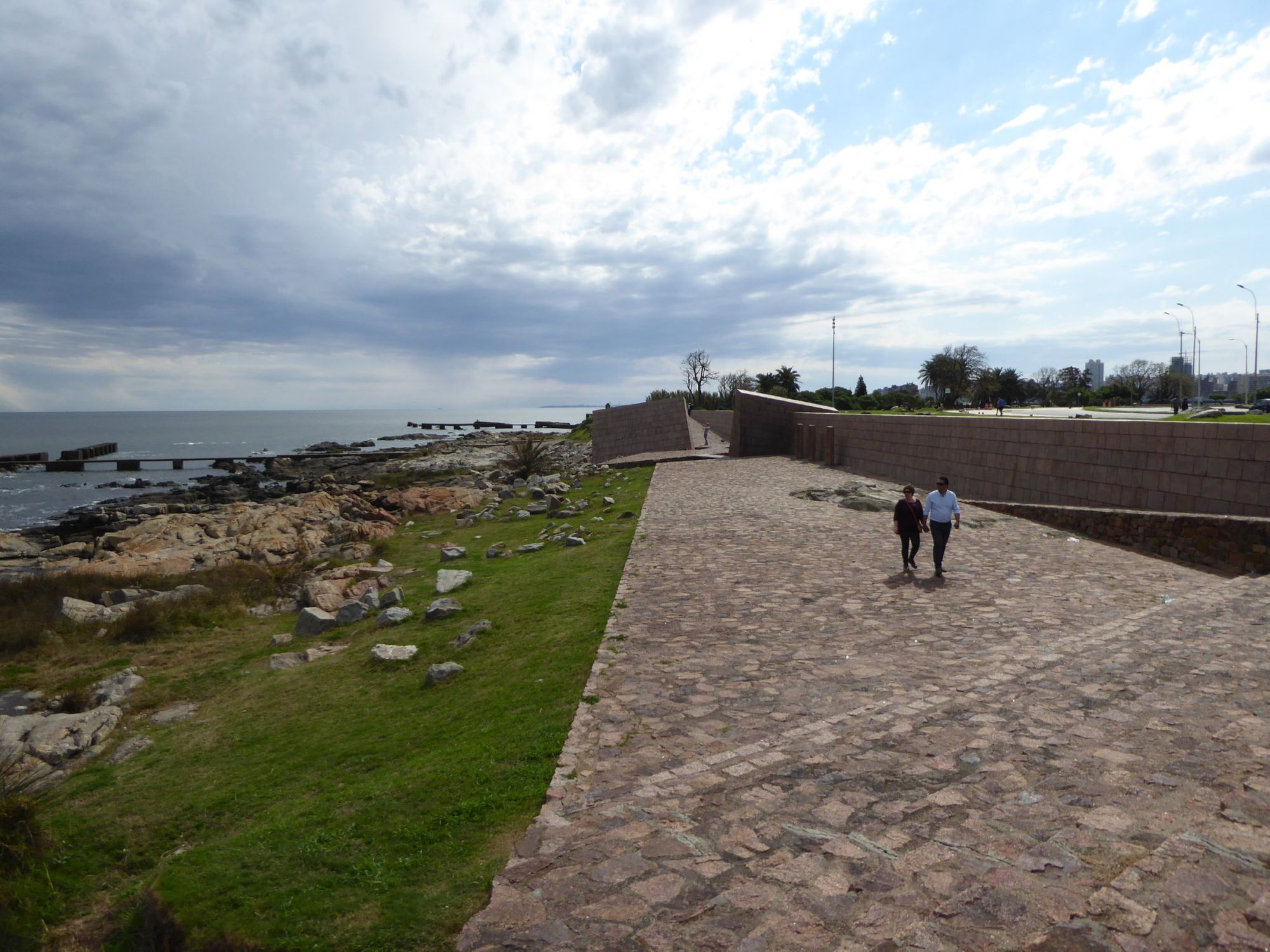 On Monday the city finally came to life, and the streets of Ciudad Vieja (the Old City) were suddenly full of people, the shops and restaurants now open and inviting instead of shuttered and menacing. This little grid of streets, surrounded by water on three sides, was once the entirety of Montevideo, and there are some handsome colonial buildings scattered around, many of them in a state of photogenic dilapidation that reminded me of Havana. The fact that Ciudad Vieja is so small makes it feel sort of compressed; in a couple of short blocks you can go from chi-chi boutiques and hipster coffee shops to grimy piss-reeking streets where local winos rummage around in bins.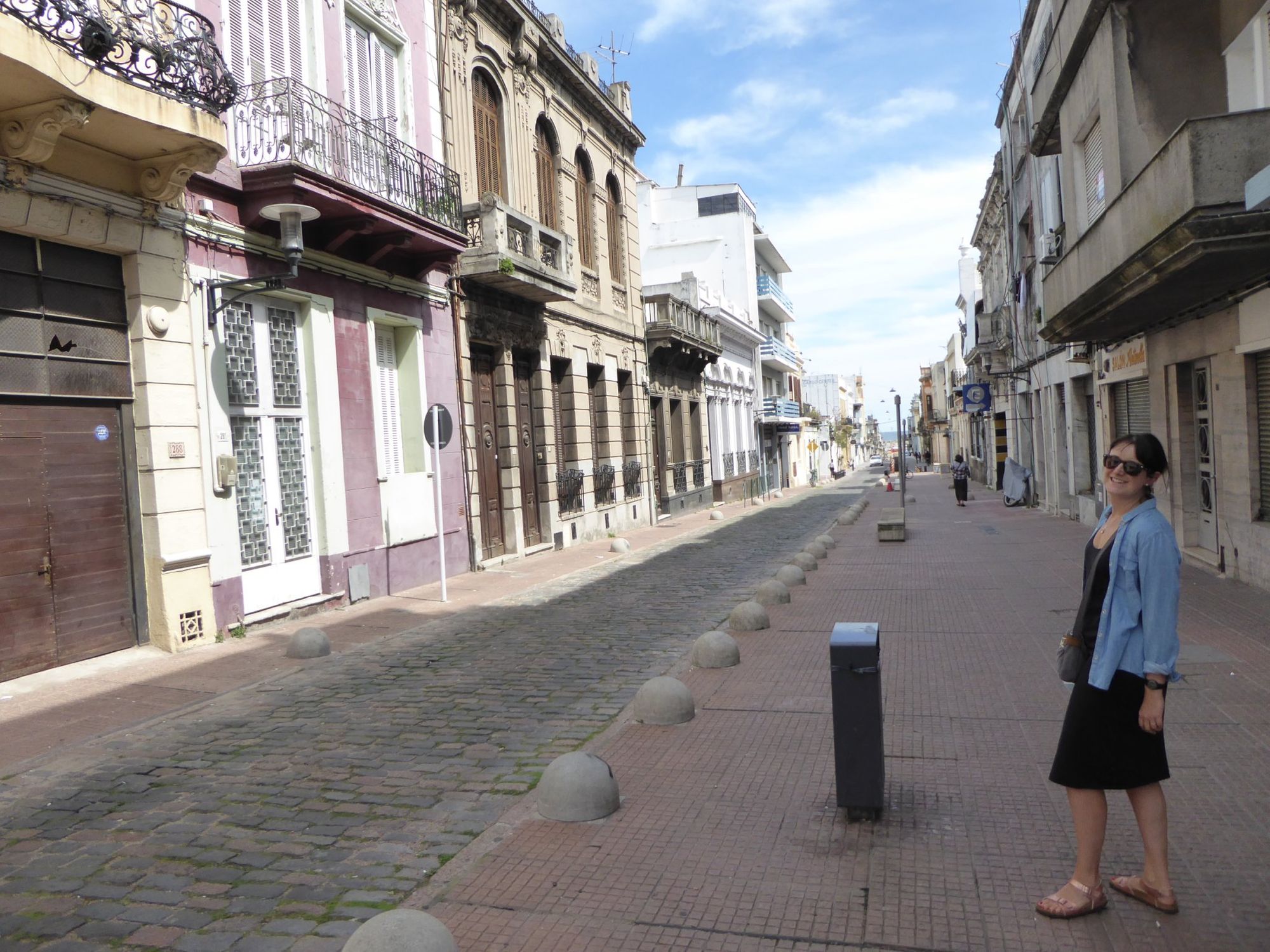 I'm glad we got to see Montevideo on a weekday, because otherwise I think we might have left feeling a bit underwhelmed. We also visited a couple of interesting museums on our last day in the city, including the fascinating Museo Andes 1972, which documents the incredible story of the Uruguayans who survived a plane crash in the Andes, resorting to cannibalism to sustain themselves until their eventual rescue, 72 days later.
Overall it's been interesting to spend a few days in Uruguay, and learn a bit about a country that is usually overshadowed by its neighbours. But it's also a pretty expensive place to travel, with food and drink prices on a par with the UK, so we're looking forward to the next three weeks back in more affordable Argentina!