Cambodia: Beaches and barbed wire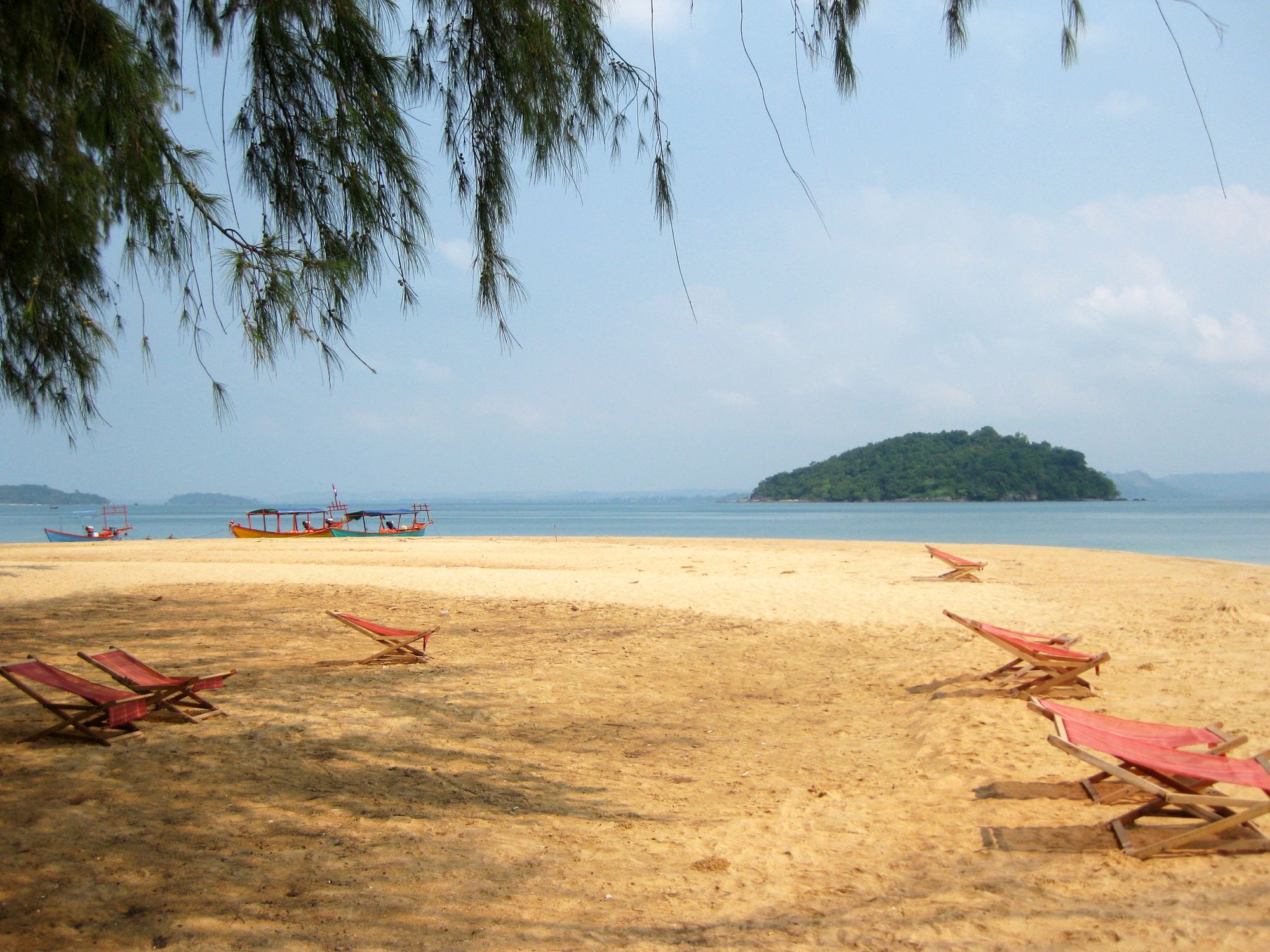 After a week bouncing along the bone-rattling roads of landlocked Laos, our first thought on arrival in Cambodia was to head for the beach, so we jumped in a taxi at Phnom Penh airport and strapped ourselves in for the three hour drive to Sihanoukville. The highway to the coast was a succession of heart-in-mouth moments, a wild torrent of speeding cars, overloaded motorbikes and flatbed trucks packed full of workers, as well as the occasional emaciated, dopey looking cow wandering perilously close to the road's edge. Dusty red countryside flashed past, a blur of banana trees, roadside shacks and drainage ditches clogged with litter; posters of Hun Sen, prime minister in perpetuity since 1985, fluttered by the roadside at regular intervals.
Context is crucial to understanding Cambodia; it's an open and welcoming country, but I also found it a difficult place to travel at times. It was a place that felt raw, the wounds of its recent history yet to fully heal, and the poverty felt a lot more in-your-face than in Laos.
Sihanoukville initially seemed like just another Southeast Asian party town; by day, a fairly sleepy place where sunburnt, shirtless westerners wandered about in a 'happy pizza'-fuelled daze, and by night a blur of whisky buckets and cheesy music, where the floor of every bar was sticky with sickly sambuca, the air thick with cigarette smoke. Wandering along the torchlit Serendipity Beach, however, we saw plenty of reminders of what this country went through in the late 1970s.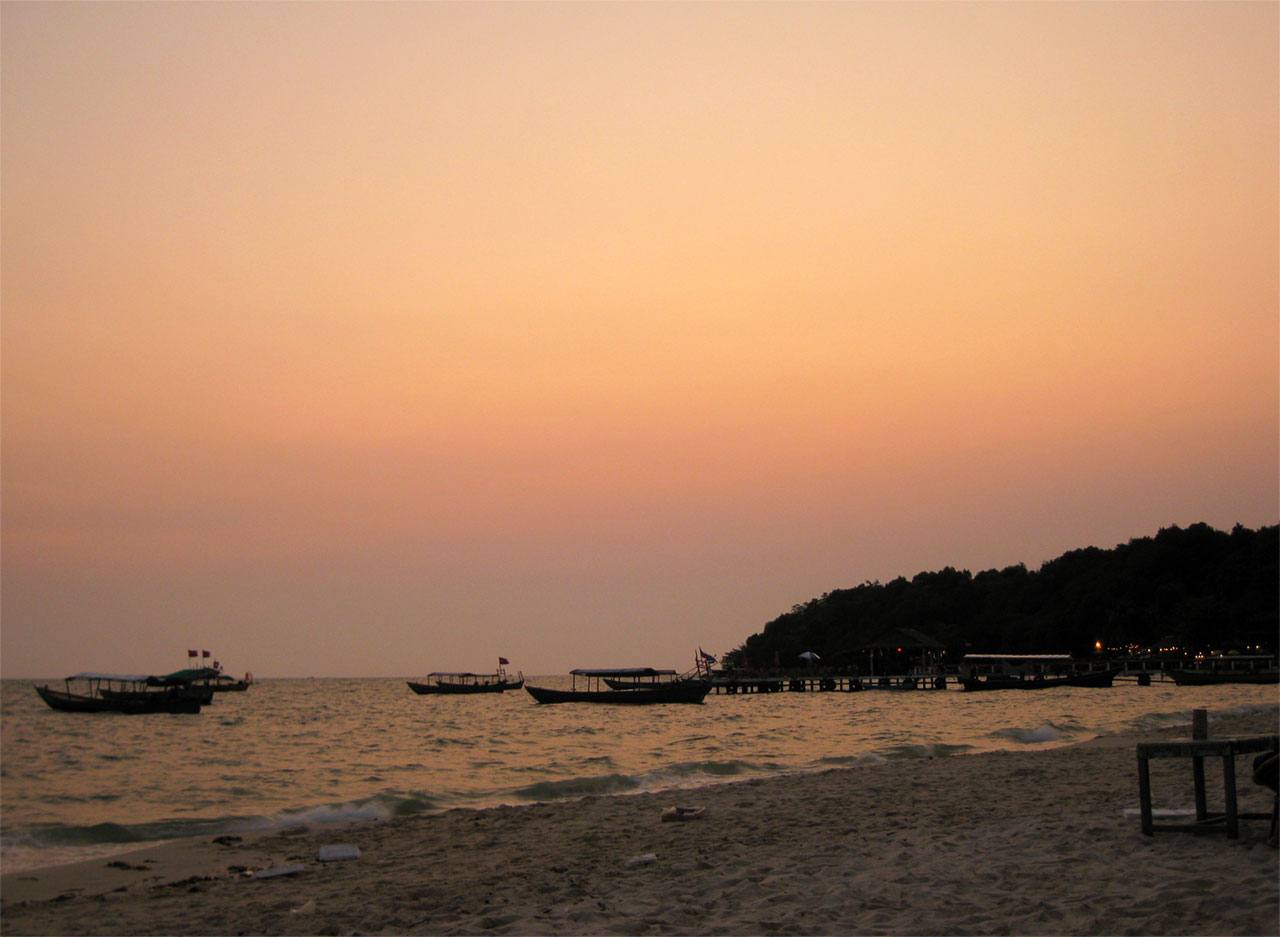 The kids selling bracelets were easily dismissed with a friendly shake of the head and a "no thank you", but there were others who pulled much harder on the heartstrings; a landmine victim with no legs dragging himself along the sand begging for money, or a deafblind survivor of the Khmer Rouge accompanied by a sad-eyed, grubby-faced little girl who just stood there and stared at us.
The best advice, as with this kind of thing anywhere in the world, is [not to give money to child beggars or beach sellers](http://rendezvous.blogs.nytimes.com/2012/10/10/dont-give-that-child-a-dollar/?_r=0" target="_blank); you never know how much, if any, of the money they actually get to keep, and by giving them money you're encouraging them to skip school and hang around on the beach all day and night. If you're distressed by what you see on the beach in Sihanoukville – and you probably will be – then you're better off buying your souvenirs from one of the charity-run gift shops in the town, such as [M'Lop Tapang](http://mloptapang.org/" target="_blank), which works to help Cambodian street children out of poverty.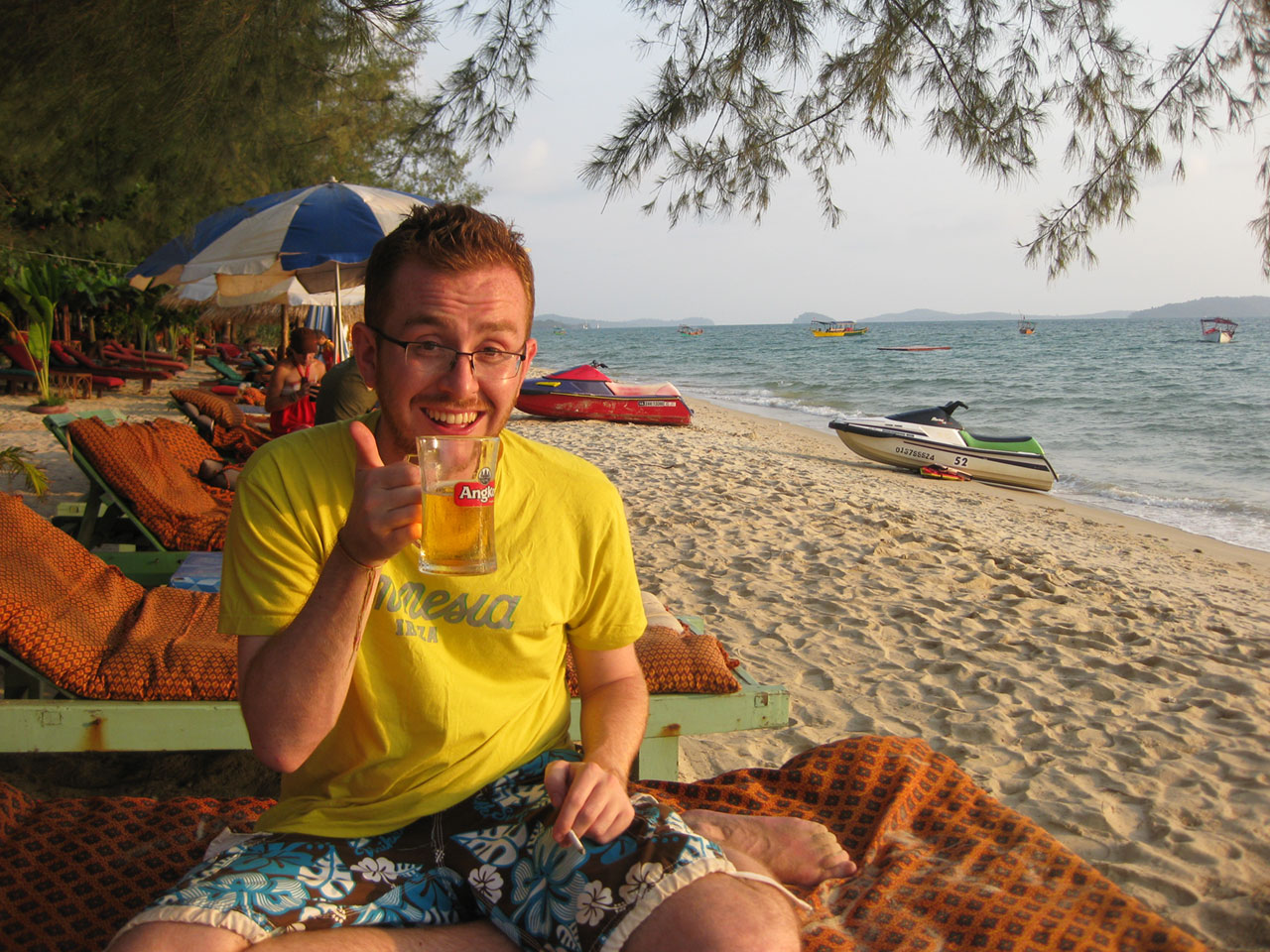 I didn't especially love Sihanoukville, in particular the area round Serendipity where most of the nightlife was, which felt a little like Ayia Napa or Magaluf transplanted to the Far East. I much preferred Otres Beach, a more chilled out stretch of sand a short tuk tuk ride to the south; it was quieter, the bracelet sellers and masseuses were a lot less pushy, and there was a string of little beach bars where you could actually relax. We also took a boat trip across to Koh Ruessey, a slumbersome, unspoilt little island where we had a lunch of barbecued fish cooked right on the sand. If I was going to return to Sihanoukville, I would definitely stay in one of these sleepier spots rather than in the centre of town.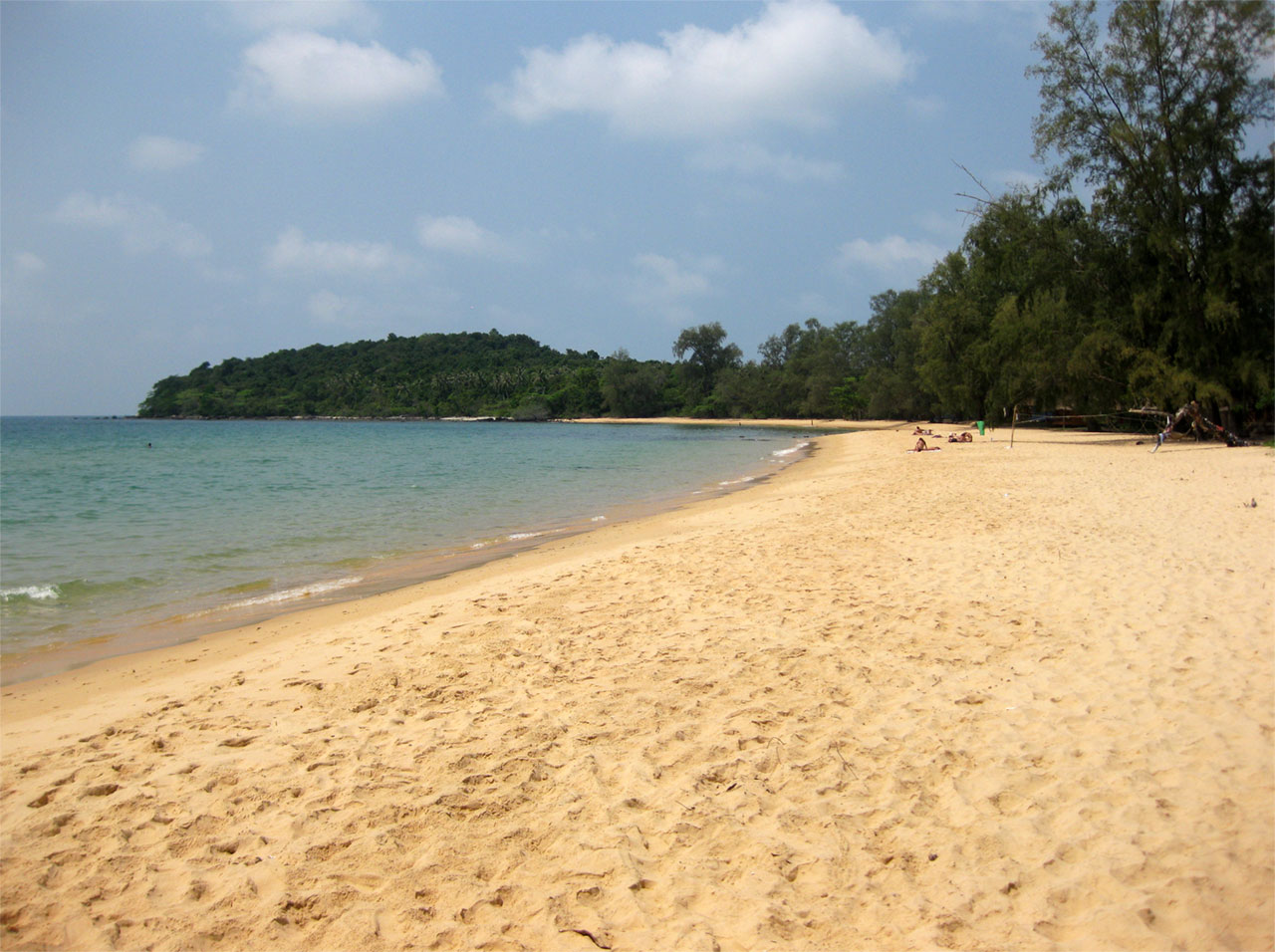 On our last night in Sihanoukville I made something of a schoolboy error, and ordered a 'hot and spicy' curry for dinner at our guesthouse. If you're in the UK, there's a chance that a 'hot and spicy' curry might be tolerable, but I should have known better than to order one in Cambodia. I'd managed nearly two weeks in Southeast Asia without an upset stomach, but the following morning things had decisively changed. I endured the drive back to Phnom Penh in some discomfort, not helped by the horrendous traffic once we got to the capital, which ensured that the last couple of miles to our hotel proceeded at a snail's pace.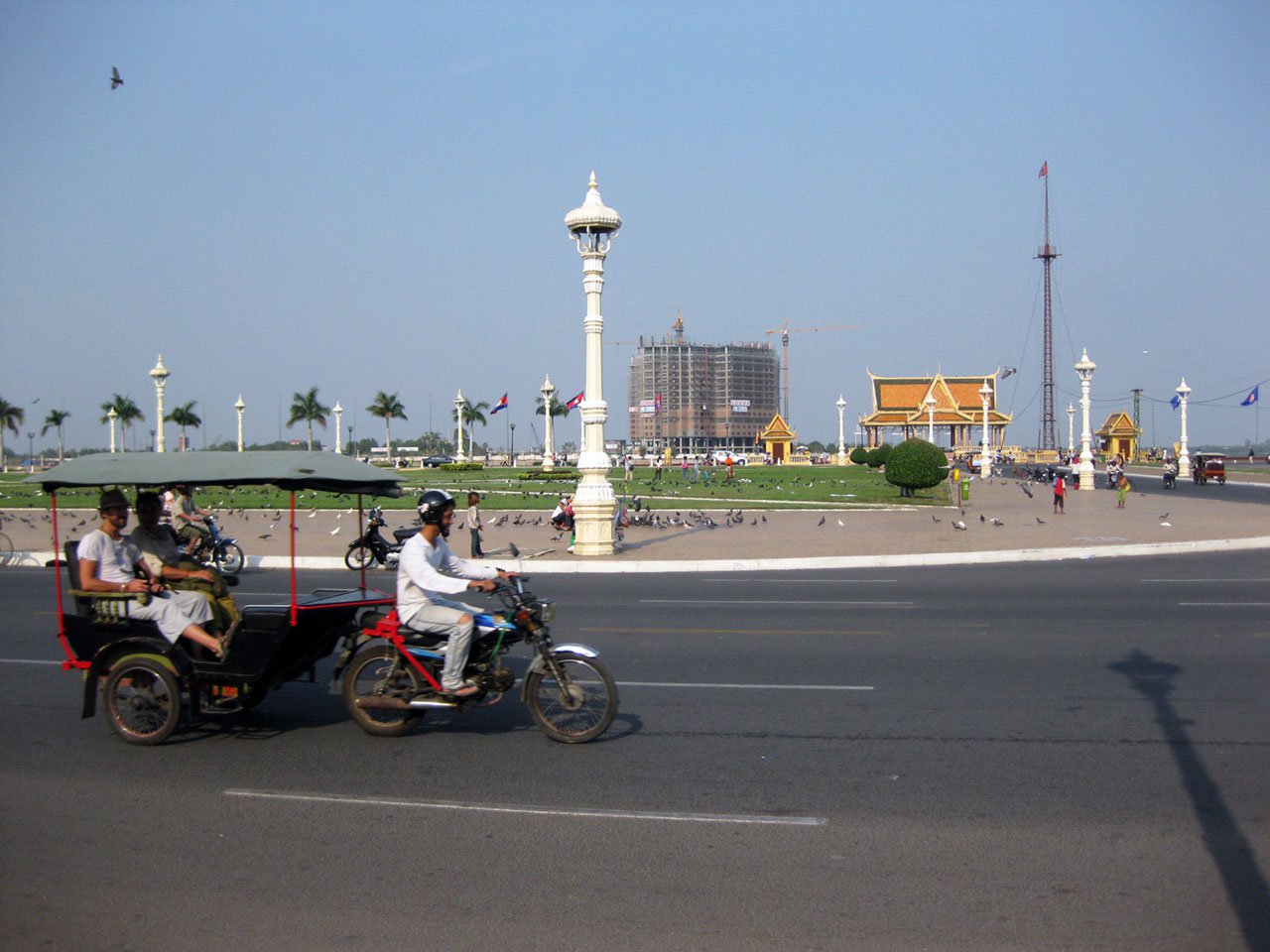 We were only in Phnom Penh for 24 hours, which in truth was probably not long enough to get the measure of what seemed like quite an intense place. The city is young and buzzy, but it lacked the charm of [Hanoi](GHOST_URL/hanoi-old-quarter/" target="_blank) or the blissful lethargy of [Luang Prabang](GHOST_URL/luang-prabang-buddhism-and-bowling/" target="_blank). It seemed like every few metres someone was trying to get us into their tuk tuk, and it quickly became quite wearing, especially in view of my churning stomach and the stifling afternoon heat. Again, context is important in understanding Phnom Penh; the Khmer Rouge forcibly emptied the city of its inhabitants in 1975, with the aim of returning Cambodia to a rural, peasant-based society, and it was only after the liberation of the city by the Vietnamese in 1979 that people began to return.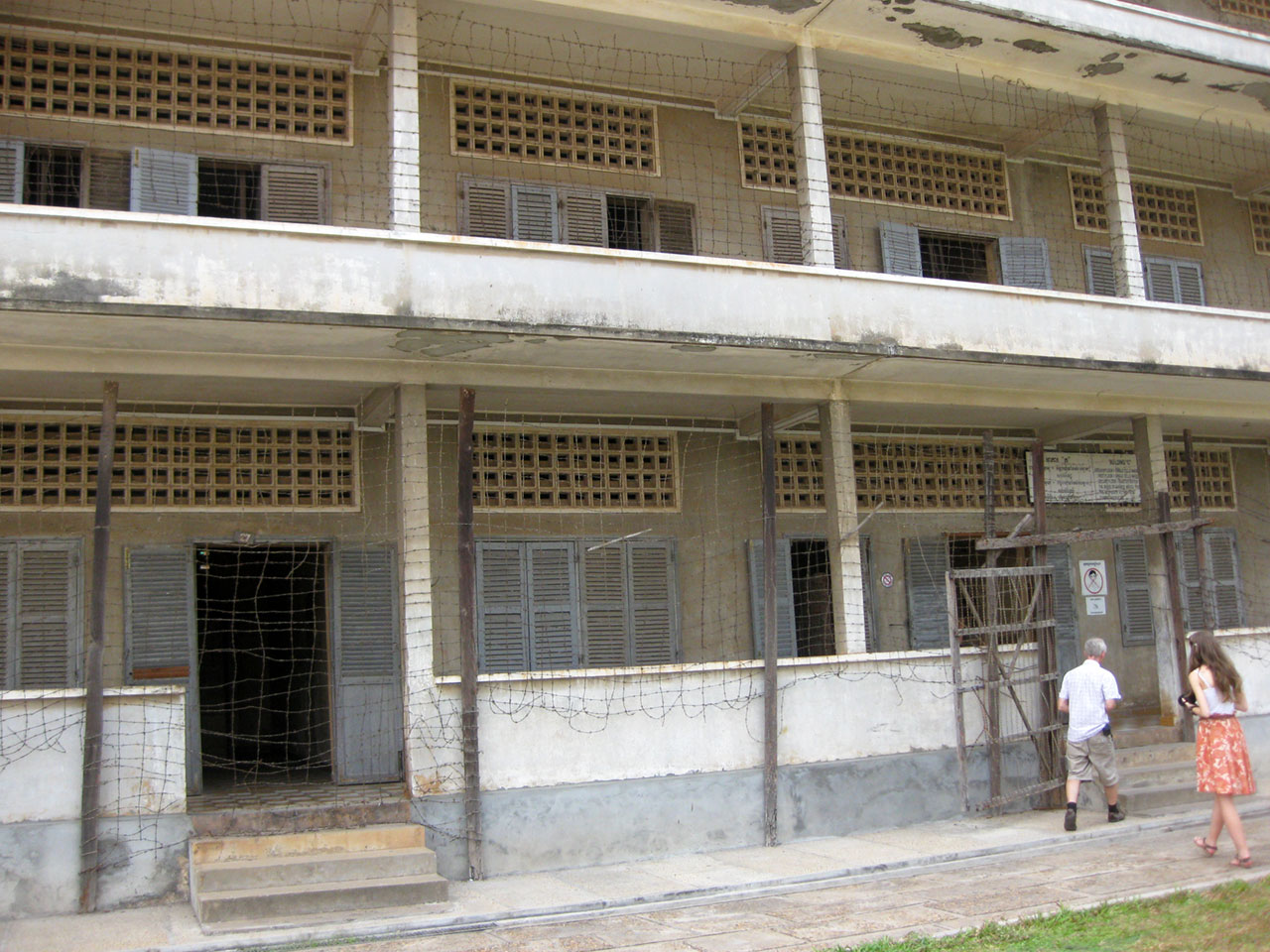 The horrors of the Khmer Rouge are most starkly illustrated at Tuol Sleng, a former school that was draped in barbed wire and turned into a prison. Between 1975 and 1978 thousands of people were detained and tortured here in unfathomably brutal fashion, before being marched to the 'killing fields' of Choeung Ek and executed. The prison is now a museum devoted to Pol Pot's genocidal regime, with most of the cells left largely untouched, the torture devices still in place and blood stains visible on the walls. I generally think of myself as a fairly stoical, unemotional person, but I found Tuol Sleng to be a genuinely harrowing experience. We walked past row after row of photographs documenting the victims, males and female, young and old, and the fact that it all happened so recently just seemed to amplify the horror of the place. In one room there were photos of Pol Pot and his fellow Khmer Rouge leaders, Ieng Sary and Khiev Samphan, and the face of each one had been scratched away, as if to obliterate them from history, to erase them from the collective memory of this scarred nation.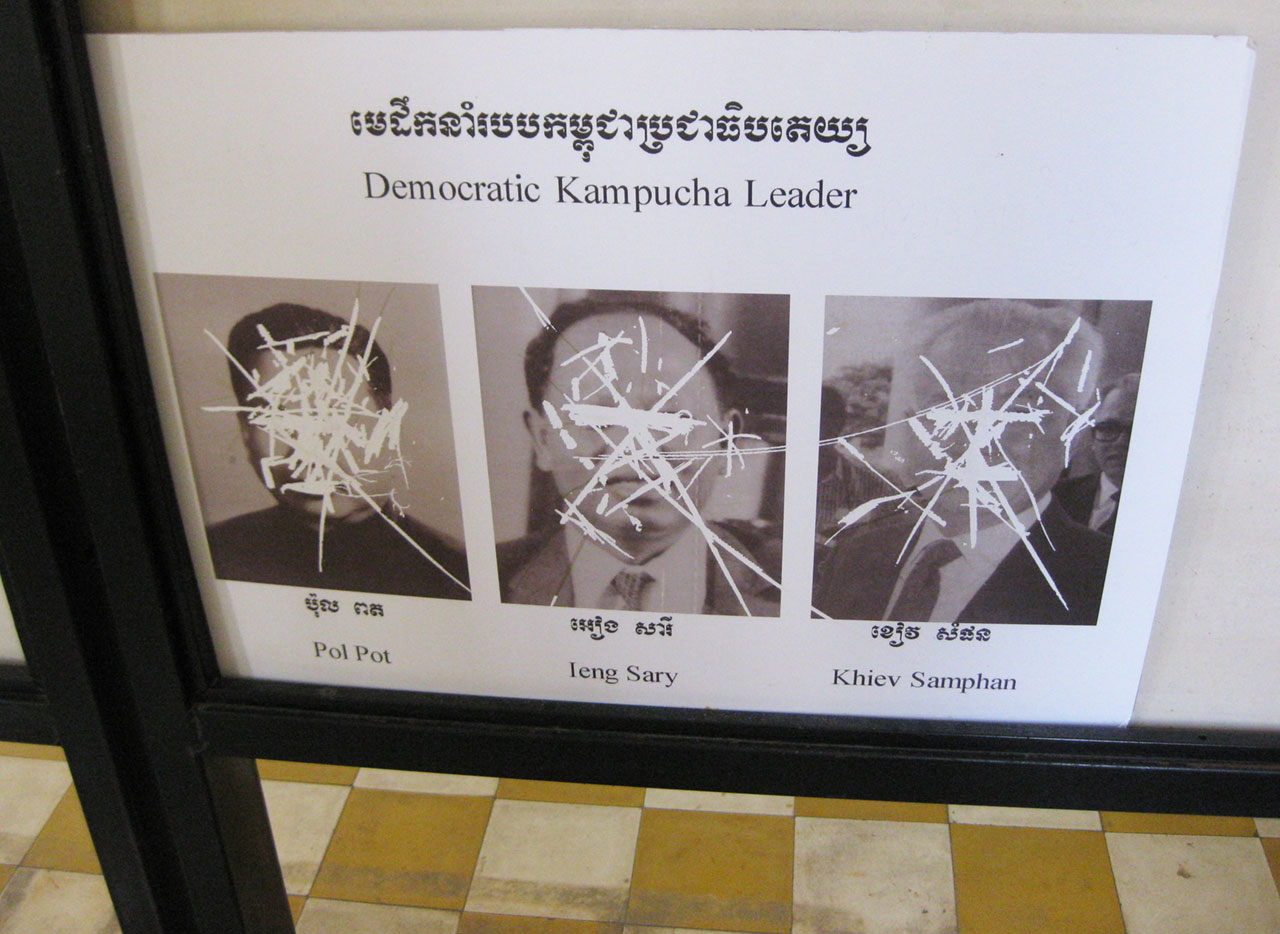 I emerged back into the glare of the central courtyard feeling numb, and still a little queasy thanks to my curry of the night before. I bought a drink and sat on a bench in the shade for a while, rehydrating and trying to process what I'd just seen.
We exited the compound and found our tuk tuk driver waiting for us. We had originally planned to carry on our tour to Choeung Ek, but we decided that we'd seen enough misery for one day, and we opted to head back to the city centre instead. I was particularly keen to be somewhere within easy reach of a civilised toilet.
"Where you wanna go now?" enquired our driver. "You want girls? Boom boom?"
"Mate… we've just been to the genocide museum!"
It seemed a pretty crass thing to even suggest, just yards from the place where so many people had suffered such an appalling fate. But perhaps, in a perverse way, it also said something positive about Cambodia; that this is a nation where people are trying to look to the future, rather than dwelling on the past.